Whether you're a seasoned RVer or new to the RV lifestyle, the great outdoors is a key part of every trip, which is why we want to preserve its beauty as best as we can. What most people don't know, is that RVing can be quite eco-friendly and even help lower your travel carbon footprint. Take a read through for some tips on how to go green on your next trip.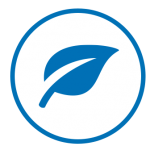 Pack eco-friendly options
Pack real dinnerware and ditch the disposables, especially Styrofoam. While it may be easier to throw things away after a meal, all of that waste adds up. Plus, you can easily wash dishes and silverware after dinner with a full-featured Jayco kitchen that includes a sink.
If you're traveling during the cooler months, try turning down the thermostat in your RV and using thicker blankets or thermal sleeping gear at night. You'll burn a lot less propane and still be nice and snug—it's a win-win.
Make your own cleaning products for environmentally- and wallet-friendly options. Baking soda and white vinegar will work great for cleaning toilets, sinks and floors. Lemon juice can be used for cleaning faucets and fixtures, cutting boards, countertops and your hands. Even castile soap, like Dr. Bronners, mixed with water in a spray has thousands of uses, from shampoo and body soap to glass cleaner.
If you want to buy cleaning products, use natural, biodegradable all-purpose cleaners like Method, Greenworks, Mrs. Meyers and Seventh Generation to avoid harsh chemicals and fumes in an enclosed space like your RV.
Instead of using chemically-based bug sprays, try making your own by mixing equal parts distilled water and witch hazel into a spray bottle, and adding 30-50 drops of an essential oil (eucalyptus, lavender, mint and cinnamon are great choices) for a lovely scent.
You can also rub lavender flowers or oil on your skin, add sage to your campfire or make citronella candles for around your campsite with this tutorial.
If you like to fish during your camping trips, look into purchasing lead-free fishing equipment, like sinkers and circle hooks. The lead in some equipment is bad for the environment, and usually lead-free items don't cost any more than your typical fishing necessities.
Protect the campgrounds
Use marked campsites and protect the grounds by always cleaning up after yourself. Leaving things the way you found them is good for the environment and considerate to the campers who come after you.
If you wash outside, don't do it in lakes, streams and rivers—in fact, try to stay 200 feet away. Detergents, toothpastes and soaps can be dangerous for fish and other aquatic life.

Take "navy" showers to conserve water. This means turning the water off after an initial pre-wash rinse and only turning it back on for the final rinse. The same goes for brushing your teeth, washing hands, etc.
When dumping grey water, try scattering it across multiple spots to help lessen how much filters through a single patch of soil.

Before you head out on your camping trip, look for natural fire starters around your yard like pine needles and dry grass. This will eliminate the need to use fire starters that can hurt the environment.
Try to minimize ash and pollution by keeping your campfires small.
Speaking of those beloved campfires, they are a great "natural way" to cook dinner. And most BBQ meals don't even need utensils and plates!
Recycle, reuse and recharge
Keep extra garbage bags or a bin in your RV for recyclables. While most highway rest areas have designated recycling bins, it's always smart to be prepared. There are also apps like iRecycle that can help find nearby places to recycle if a campground doesn't offer the option.
Don't forget about also reusing things like bottles, bags, clothes, etc. A milk jug or bottle can be used for water or ice. Plastic bags can be for small trash cans. Ziploc bags and tinfoil can be washed and reused. Even old t-shirts, paper bags and newspapers can be used for cleaning or crafts.
Use rechargeable batteries in all electronics, appliances and mobile lighting.
Drive more efficiently
Reduce vehicle emissions and conserve energy by staying up-to-date on the recommended tune-up and oil change schedules. Keeping your tow vehicle or motorhome running at peak efficiency is best for your RV and the environment.
Save on gas and burn less fuel by relaxing your foot on the gas pedal and slowing down. In a test done by Edmunds.com (one of the top car information sites), moderate acceleration and braking was shown to offer an average of 31 percent in fuel savings over aggressive driving behavior.
Make sure your tires are inflated to the correct amount. Under-inflated tires not only cause you to burn more fuel, but they can increase the chance of failure or blowout at high speeds.
Only use the cruise control function on your vehicle for long, flat stretches of highway. In mountainous areas, the system will waste a lot of fuel as the transmission downshifts and the engine speed (RPM) rises to climb the hills.
Choose green RV upgrades
Find an RV with LEDs to save battery power and money on electricity. If you want to go a step further, look into solar panel options. Jayco uses LEDs almost exclusively and most of our towable RVs are prepped for solar panels with plugins on the roof, near the ground or, in the case of our Eagle line, both (an industry-first). You can buy solar panel kits separately and plug them right in to the unit.
Explore the Jayco EcoAdvantage and our green lineup. We're proud to be building green RVs using fewer or renewable natural resources.