Three adventurous couples, each with a Jayco Jay Flight 195RB Baja Edition travel trailer, set out on an exciting adventure this summer and we are sharing their story.
The trip was 8,000 km (4,971 miles), which turned out to be a 41-day round-trip journey from Sun Peaks, British Columbia to the Beaufort Sea above the Arctic Circle in Tuktoyaktuk, Northwest Territories. This journey is particularly interesting, because the crew traveled on a newly constructed road. For the first time in history, there is a road to drive on, rather than having to cross on an ice road during the winter months only. Here is Roger Mirka's account…
Our journey first took us to the northern most part of Canada's British Columbia, along the Alaska Highway. We traveled across the Yukon on the North Klondike Highway and then north through the Northwest Territories on the Dempster Highway until reaching the end of the road at the Arctic Ocean, and then finally through parts of Alaska on the Top of the World Highway. Wow!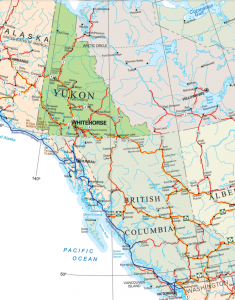 What a trip. We returned home south on the Stewart-Cassiar Highway (See map).
Other than the 919 km (571 mile) of the Dempster Highway from Dawson City, Yukon to Inuvik, Yukon, the 140 km (87 miles) beyond that to Tuktoyaktuk, Northwest Territories, and the 127 km-long (79 mi) Top Of The World Hwy, most roads were paved.
The Inuvik to Tuktoyaktuk road was completed just 10 months ago. It is the first ever summer road to Tuk, replacing the winter ice road of the past. For more on this type of adventure, click here. This road was constructed by pouring gravel over existing ice, over sediment, over the permafrost. On a warm day, it becomes muddy and quicksand-like with mud squishing out the sides like driving on a giant s'more.
The Jayco Jay Flight 195RB Baja Edition was ideal for this trip, as well as a perfect fit for our every day camping needs. We love the queen size bed that allows enough space for you to walk around both sides comfortably. The bathroom offers a separate shower, which is a nice feature. The Baja edition was particularly suited to our more adventurous wilderness destination. The larger tires provided more ground clearance, covered bottom, and a larger fresh water-holding tank.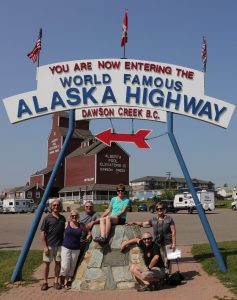 Preparations for this arduous journey included installing secondary propane tanks and switching to two 6-volt batteries for longer performance and installing solar panels. Adding an extra spare tire for our tow vehicles and utilizing weight distribution bars and anti-sway control, both helped us feel more confident about road safety. We packed plenty of spare fuses, oil and radiator coolant, as well as brake and transmission fluids as our storage spaces allowed.
The preparations did not stop there. New air compressors, generators, voltage regulators and surge protectors were purchased and installed or stuffed into the rapidly filling storage compartments. Horror stories of the northern mosquitoes and black flies had us buying bug repellent, bug lamps, bug zappers, bug coils, bug screen head gear, bug clothing spray as well as bug repellent clothing (none of which turned out to be needed).
Each vehicle was equipped with a walkie-talkie to communicate while driving and we had a rental satellite phone and a satellite SPOT location emergency broadcaster to allow our families to keep track of our location.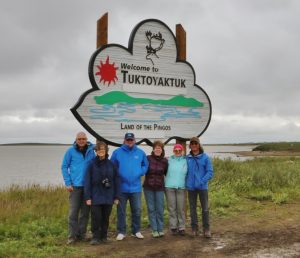 Our campsites varied over the 41 days between Provincial parks and private campgrounds. If necessary, we were open to occasional boon docking in a field. Although that never was necessary. Generally, the Provincial parks proved to be the nicest campsites. They offered plenty of trees and greenery. They were very private, and offered pleasant accommodations, such as washrooms and showers. Unfortunately, not all have any services, which required us to fill our fresh water tank and operate with battery and propane. With two 30-pound propane tanks, we can run our fridge and hot water tank for a few weeks. We have found that we can use lights and even charge all of our various electronics on an inverter and our solar panels still keep our two 6-volt batteries at full power all the time.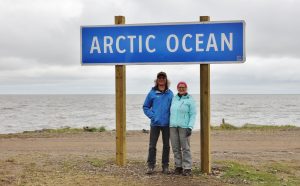 After our first couple of nights on the road, our morning routines were already becoming quicker and more organized. Packing up, disconnecting, taking down and hitching up were a breeze. In the days ahead, especially if camping for only one short night, I learned to unhitch only if necessary and to unpack only as much as we truly required.
Fishing is great in the numerous rivers and lakes all along the Alaska Highway. You can buy fishing licenses online, in advance of travelling, for BC, Yukon, Alaska and Northwest Territories.
Wildlife along the trail was amazing. There were several times our group got to, see grizzlies, black bears, eagles, lynx and foxes. On one occasion, we even witnessed a free-ranging herd of wild Wood Bison, that were re-introduced to the Yukon in 1980 as part of a national recovery effort. Our group were lucky enough to see them very close to us along the Alaska Highway about 300 km (186 miles) south of Watson Lake.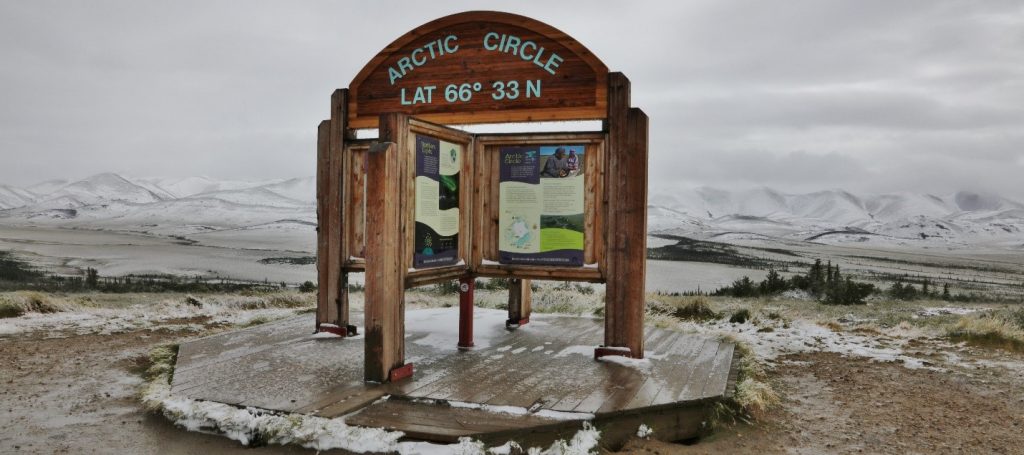 A number of MUST STOP sites include:
The City of Dawson Creek (Mile Zero of the Alaska Highway)
Liard River Hot Springs Provincial Park (Within this beautiful 1,082 hectare lush boreal spruce forested park is the second largest hot springs in Canada)
The town of Watson Lake, Yukon and their famous Signpost Forest (started in 1942, there are now over 72,000 signs there, all erected since Private Carl K. Lindley nailed up the first sign)
Numerous First Nations Interpretive Centres (rich history, beautiful crafts, warm and friendly people)
Braeburn Lodge, 100 km (62 miles) north of Whitehorse (home of the famous and HUGE Cinnamon Buns. We only needed only one of these fresh and delicious $12 giants to share amongst the 6 of us.)
Dawson City, Yukon (This small, northern community is a mix of First Nations Heritage and Gold Rush History. From touring a gold-mining dredge to an evening at Diamond Tooth Gerties Gambling Hall and Can-Can dancers, to joining the Sour Toe Cocktail Club, there is an abundance of fun and unusual things to see and do around Dawson.)
The Arctic Circle signpost (for selfie photos)
The town of Tuktoyaktuk, Northeast Territories (Population under 1,000, advertised as the biggest town above the treeline, jutting out into the Arctic Ocean. This is THE place in Canada to dip your foot into the Arctic Ocean.
Chicken, Alaska (on the Top of the World Hwy, Chicken is home to a large dredge and various other mining memorabilia, this tiny community has a permanent year-round population of 4, ballooning to about 35 in the summer. Apparently, the original name for this place was to be Ptarmigan, based on a sighting, but nobody knew how to spell that so they named it Chicken. The over-riding theme here is … you guessed it; chickens. The gift shop has every chicken related card, decoration, hat, etc imaginable, while even outdoors, various chicken sculptures adorn the landscape.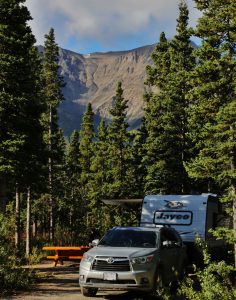 We did not travel the entire journey with our travel trailers. There was a stretch just North of Dawson City we traveled the 919 km (571 mile) Dempster Highway without our trailers as the roads were extremely rough with sharp, shale rocks, capable of slicing through tires and sections of deep and slippery mud. We also drove through slush, snow and across solid ice; all treacherous just in our cars but seriously dangerous with a trailer. We passed by various vehicles stopped with flat tires as well as one abandoned travel trailer with a wheel missing, incidentally, it was not a Jayco.
The Dempster highway was an incredible adventure that we will never forget. The scenery, wildlife, harsh living conditions and warm, friendly people have all left their mark on us. Some final notes and recommendations for travelling the Dempster and Tuktoyaktuk highways:
Buy the best, rugged tires you can get and bring 1 or 2 full size spares on rims.
Bring extra gas, small air compressor, extra fluids of all types for your car.
Pack food, water, blankets, warm and waterproof clothing.
Expect poor conditions as the weather changes quickly and to extremes.
Bring extra everything (one of my two cameras broke down).
Carry satellite communication (no cell service)
Travel slow, stop a lot, meet the people. (Enjoy the culture)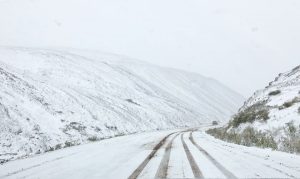 This trip was challenging with the long distances, northern isolation, poor roads, and most of the time a total lack of cellular service making communication nearly impossible. Our Jayco Jay flight 195RB Baja Edition trailers were up to the challenge. Moreover, although some minor repair issues came up, none of them posed any great difficulty to us. All of our spare tires, spare gas, spare oil, filters, etc., were not even needed. We are counting our lucky stars as we saw many other travellers with numerous serious breakdowns and accidents. Any little difficulties we experienced were far outweighed by the spectacular scenery, wilderness, wildlife and the memorable people we met along the way. We hope you enjoyed reading about our adventure and hope you will consider making this track yourself some day. Also, thanks to Jayco for producing such a rugged travel trailer.
Click here to read more about this trip from Roger Mirka.