The travel trailer is the most popular type of RV based on sales figures. For some perspective, in 2017, about 275,000 travel trailers were shipped from manufacturers to dealers. (Our Jay Flight was the best-selling travel trailer in America for the 13th year in a row, by the way—wink wink, nod nod.) The next largest category of RV, fifth wheels, shipped about 75,000.
What makes it so popular? Probably many of the same reasons it may make the ideal first RV for you. So let's dig right in.
Variety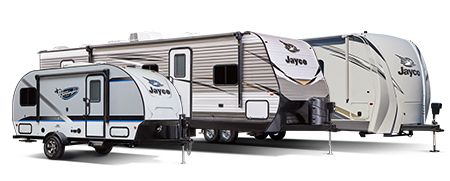 No matter how you plan to travel, solo, with your significant other, your family or your friends, you're almost certain to find a travel trailer that suits your needs. Our Hummingbird, for example, sleeps two, while larger bunkhouse models, like our Jay Flight 32TSBH or Eagle 333BHOK, sleep up to ten comfortably. If there's a particular layout or RV feature you're looking for, inside or out, you can likely find it on one travel trailer or another. Weights vary widely too, making them towable with a range of vehicles.
Campsite accessibility
Since travel trailers and available in shorter lengths and lighter weights, you'll rarely have to worry about finding a campground that can accommodate your unit, both in terms of campsite availability and navigating tricky turns. The same can be said if you're looking to dry camp (not at an official campground). You'll be able to access more natural sites comfortably with a travel trailer. Fifth wheels, for instance, are typically much heavier and can extend past 40 feet in length.
Mobility at your destination

If you're looking to explore different regions, a travel trailer provides you an extra bit of flexibility once you get there. Detaching your tow vehicle and heading out and about is relatively simple with most travel trailers. There's no need to tie things down to get your unit ready for the road or fully pack up your campsite every time you leave.
Construction options

In the case of many travel trailers, you'll have a choice between aluminum and fiberglass sidewalls, an option you don't always have when it comes to other RVs. Options are almost always a good thing. Both have their pros and cons: aluminum models are generally less expensive (potentially welcome news for someone looking to try out the RV lifestyle) and easier to repair in case of damage; fiberglass walls are flat, making them easier to maintain, and lighter/more aerodynamic.
Ready for the wild
If getting off the grid—dry camping or boondocking as you may hear a RV veteran call it—is your goal, a travel trailer could be the right RV for you. They are largely self-contained in the sense that factors like large holding tanks, high battery capacity, solar hookups and supplementary insulation make many travel trailers ideal for camping without water or power connections. Different packages or models are even offered to better handle more rugged terrain. Our Baja Package, for example, includes features like off-road mud tires, added ground clearance and entrance steps.
We offer ten different travel trailers in dozens of floorplans. If you're interested in learning more about the best-selling Jay Flight, you can get some more insight from the woman behind the popular trailer, Senior Director of Product Development, Amy Duthie, here.
Additional Resources
10 Reasons Small Trailers Rule
Find A Lightweight Travel Trailer For Big-Time Fun