RV vacations have never been more popular than they are now, in the age of coronavirus. Why? Because RV's are self-contained and allow us to travel with our own bathrooms, kitchens, bedding, and personal space. But that doesn't mean that we shouldn't take precautions when traveling so our families can be as safe as they can possibly be. Having peace of mind when traveling will make evenings around the campfire even more peaceful and relaxing. Here are 8 tips for RVing safely during the current health pandemic. Each one will be easy to implement during your own RV adventures in the months to come.
Utilize Your RV Bathroom While on the Road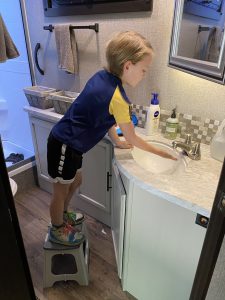 The fun starts right away on an RV trip, but so should the safety precautions. Your Jayco is a self-contained unit that offers up comforts and conveniences that can be utilized during every stage of your trip. Why bother dealing with crowded and dirty rest stop bathrooms when you can enjoy the privacy of your own bathroom? Just fill your fresh water tank with a modest amount of water and your RV's bathroom will be usable for the entire trip.
Utilize Your RV Kitchen While on the Road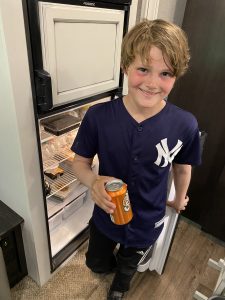 Your RV kitchen is also usable during a road trip, and not just when you get set up at the campground. We love pulling over at a rest area and making our own healthy food and avoiding long, crowded lines at fast food joints. We typically keep these roadside meals simple and make sandwiches and grab cold drinks from the fridge. Whether we eat inside the RV or grab a picnic table outside at the rest area we are thankful that our RV gives us control over our meal choices while on the road.
Camp in Less Crowded Locations
We have always loved finding large and private sites to park our rig. But this year we appreciate the space even more. If our campsite allows us to have a game of catch and stretch our legs a little--then all the better. Who wants to have a campfire with your neighbor's RV crammed up against your site anyway? So how do you find the perfect site for your family? Read this post here on the Jayco Journal to get started!
Choose Your Activities Wisely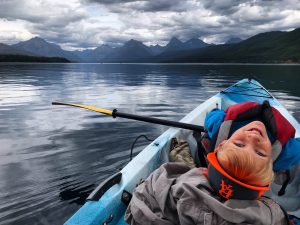 Our kids love to play basketball or Ga Ga Ball at the campground with other kids, but this year we are steering away from crowded outdoor games that pack our kids too closely together with other campers. Thankfully, there are many outdoor activities that are safe and allow for social distancing in the age of coronavirus. Here is a blog post with a list of great options that work well on most RV trips. While it is a bummer that our kids can't be as social at the campground this summer we are looking on the bright side and enjoying more time together as a family.
Get Up Early and Beat the Crowds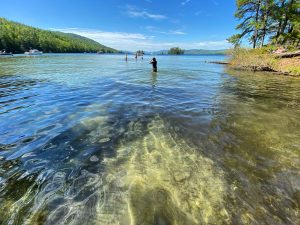 Whether you choose to spend your time hiking, biking, or kayaking, getting up early and beating the crowds has major advantages. Most trailhead parking lots are relatively empty before 8am and completely full by 10am. So if you want to hike in a popular spot, then plan on getting there early. If you plan on renting kayaks or SUP's and hitting the lake then either call the day before and make reservations or get to the rental place early before the afternoon crowds show up. If you knock out an adventurous activity in the morning then you can head back to the campground for a late lunch and enjoy the pool and other amenities with limited crowds, because most people are out for the day at that point.
Sanitize and Clean The Inside of Your RV Regularly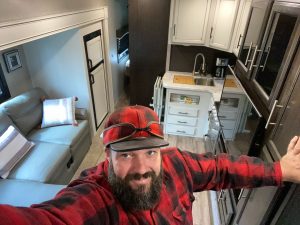 Most of us like to keep our rigs clean and tidy, but this year we all might want to take a few extra steps and sanitize the RV regularly as well. Here is a blog post with recommendations for keeping your RV germ free and "as hygienic as possible." A little extra elbow grease will go a long way towards keeping you and your family safe on your next trip.
Avoid Sharing Meals in Large Group Settings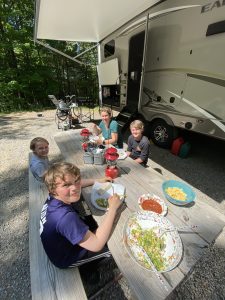 We love sharing meals and participating in potluck dinners with our camping buddies, but this year we are playing it safe when it comes to sharing food--and recommend you do the same. We are still enjoying quality time with other families at the campground this summer--just not at mealtimes. If you do decide to have dinner outside together, but still want to play it safe, then plan on bringing separate food with you.
Be Willing to Change Plans and Be Flexible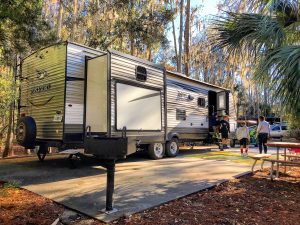 The biggest lesson we may all need to learn this year is the value of flexibility when it comes to making plans both large and small. If you end up in a crowded environment that makes you feel uncomfortable, then you may want to leave and find something else to do--or just come back later. Sometimes state restrictions and openings and closures may force us to cancel plans that have been in the works for months. As RV owners we almost always have other options. One of the best things about owning an RV is the freedom and flexibility that it provides. If a campground gets closed or plans get cancelled just do your best to adjust and roll on to another location.
RV ownership provides a safe and flexible way to travel and see the country during these crazy times. I am thankful for my RV each and every day and I'm certain you are too.
Jeremy Puglisi is the co-author of See You at the Campground: A Guide to Discovering Community, Connection, and a Happier Family in the Great Outdoors and the co-host of The RV Atlas podcast.