As our older son inches ever closer to high school graduation, I find myself feeling more and more sentimental with each passing day. Since we began RVing four years ago, we have been lucky enough to take our growing sons on three cross-country trips, packing in the memories as we packed in the sights to see.
They say you have 18 summers before your kids leave home, and while the days are sometimes long, the years are way too short. With this in mind, I propose eight kinds of RV trips you should take with the kids before they begin their young adult lives.
The Celebrate-Your-Home Trip
Sometimes, kids grow up without an appreciation of the places they are from, and travelers are often guilty of overlooking the amazing places right under their noses. Counteract this with a trip that celebrates your home area. Consider visiting your state's capital and other historic sites, or visit state parks to celebrate the geography of your region. Don't be afraid to include the nearby tourist traps you usually avoid—after all, there's a reason people travel from all over the nation to visit them.
The National Parks Trip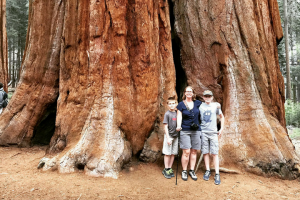 President Franklin D. Roosevelt once said, "There is nothing so American as our national parks." RVing is quite possibly the best way to explore the parks, whether you take a trip to a single location or plan a journey through several. With 58 designated national parks and over 400+ National Park Service sites, there's a wealth of sights to see. If you have a 4th grader in tow, be sure to join the Every Kid in a Park program, which gets you a free one-year parks pass.
The Theme Park Trip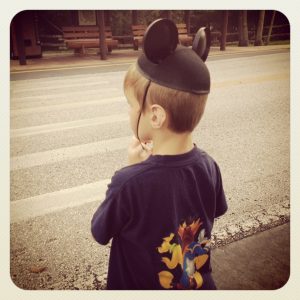 My husband was reluctant to do a big theme park vacation since he imagined those kinds of places as expensive, hot, and crowded; however, he was quickly won over by the magic of the mouse on our first trip to Disney World. Seeing the wonderment in your children's eyes as they interact with beloved characters, conquer their first coaster, or embark on an enchanted journey makes everything worth it. Several theme parks have campgrounds nearby, providing a prime place to relax after a busy day of play.
The History Trip
Bring the past to life with a visit to a historic site. Younger children especially love living history sites, where costumed interpreters weave tales of days gone by. These spots often incorporate hands-on experiences, which help children learn in a way they never would from a video or book. If at all possible, take your kids to Washington D.C. to see the cornucopia of sites related to our nation's history and heroes.
The Geography Trip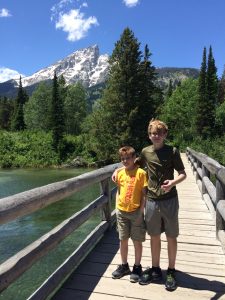 I grew up in a landlocked Midwestern state, as did my sons, so we are fascinated by endless seas and jagged mountain peaks. Taking a trip to a place where the geography is substantially different from home allows your kids to truly understand those landforms and regions they were taught about in school but may have never seen in person. Head to the beach and sink your toes in the sands while the kids hit the waves, or visit the mountains to be wowed by the majesty.
The Cultural Trip
Though we are a single nation, there are many cultures found from sea to sea, and there are some locales that will make you feel as though you've traveled to another country. A cultural trip is one that embeds you in a place as you explore the music, foods, and traditions of a setting unlike home. For example, think about how the creole culture of New Orleans permeates every bite of jambalaya and every zippy zydeco beat.
The Big City Trip
If your family doesn't regularly visit big cities, a trip to one is sure to be an eye-popping experience. From unbelievably tall skyscrapers to endless seas of people, big cities are something to behold. You'll hear diverse voices representing many countries, you'll enjoy the challenge of navigating underground transportation, and you can explore world-class museums and performances by the dozen. Of course, if big cities are par for the course for you, find a rural retreat instead.
The Do-Nothing Trip
While quality family time can be enjoyed on any RV trip, it is easy to get caught up in a sightseeing agenda that leaves little down time. However, the magical moments are just as likely to happen around a campfire as they are at a mountaintop. Take a trip with very little on the agenda, other than time together in a campground. Put down your gadgets, and break out the board games. Disconnecting from your devices allows you to reconnect with each other.
Alas, your budget and vacation days may not stretch far enough to make all eight of these trips before the kids turn 18; however, you can create mini-versions close to home, or you can combine several of these elements when you do get the chance to get away.
Next year, my younger son will start high school and my older son will be a senior. Time really does seem to be slipping into the future for us. While we haven't done all of the trips on my list, I am proud that we have exposed our sons to as much of the diverse geography and cultures of our nation as we possibly could. I hope I've sparked a fire in them that will inspire them to savor these memories and to keep on exploring, long after they leave our house.
This post was written by Kerri Cox of Travels with Birdy. Kerri writes about her family and RV travel at travelswithbirdy.com. You can also follow their adventures on Facebook, Twitter and Instagram.