During the summer of 2019, Stephanie and her family decided it was time to upgrade from tent camping to the comfort and convenience of an RV. They chose a 2007 Jay Feather EXP 19H travel trailer, noting they loved all of the storage space and the ability to store their Crock-Pot, griddle, toaster, waffle iron, pots and pans, dishes and still have space left.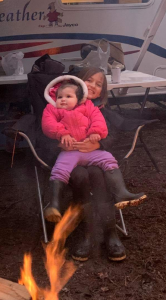 "We mostly enjoy the concept of not having to pack and unpack every weekend. It is made for all ages – including our 18 and 16 year-olds and their friends." - Stephanie One weekend they decided to adventure to Quemahoning Dam in Somerset County, Pennsylvania where they could fish and spend time together as a family.
After converting the dinette into a bed for her daughter and cousin, Stephanie put a movie on her laptop for them and joined the rest of the family at the campfire outside. "I heard the tree before I turned around to see it," Stephanie stated. "It happened so fast that the tree was already on the camper before I even left my seat." Stephanie, still shaking, was able to get both of the kids out and to their cousin's camper. Finally, Stephanie gets a minute to calm down when she realized, "If that had been their old pop-up or a tent, the kids could have been killed."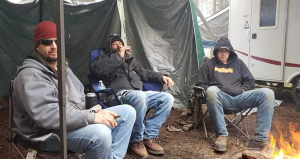 After confirming the kids were okay, Stephanie was able to assess the damage to their RV. Despite the size of the tree and how hard it came down, the roof did not collapse and stood true to the strength of its construction. The tree had caused damage to the rear exterior, shower vent cover, off-door-side frame, and broke both rear jacks.
"Everyone at the campground ran to help and make sure we were okay. Campers down the road stated their RV's shook and came running out to see what was going on. No one could believe that our RV was not crushed."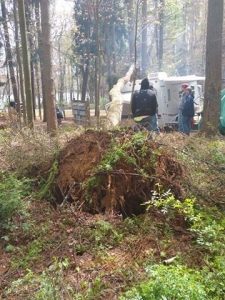 Stephanie and her family were able to make the necessary repairs in order to use the RV this season and have discussed purchasing another Jayco RV. Thankfully, this Jayco family will continue to enjoy what they like most about camping, "The sound of water and a cool breeze. The freedom of going anywhere to fish, swim, or float down the river. Waking up to drink percolated coffee on the river bank, and cooking over a campfire."