Updated on March 12, 2020
Camping season is finally here, and nothing says camping more than s'mores around a crackling campfire! A traditional s'more recipe calls for sandwiching a roasted marshmallow between graham crackers with a couple pieces of chocolate. But there is no "right way" to make a s'more. In fact, there are endless combinations and creative ingredients that can be used to create unique and fun treats. So the next time you're camping in your Jayco, check out these recipes for a fresh spin on an old classic.
Gourmet S'more #1: The PB&J S'more
Are you ready? We're mixing two all-American classics with this one! This recipe is as simple as it is delicious. All it takes is some strawberry jam, peanut butter, a marshmallow roasted to your liking and lastly your traditional graham cracker to hold it all together. Yum!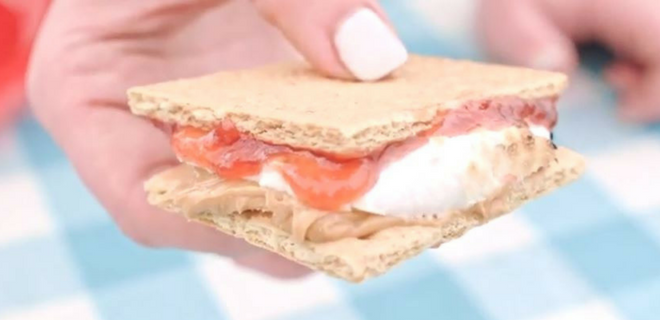 Gourmet S'more #2: Reese's S'more
2 graham crackers
1 regular sized Reese's peanut butter cup
1 roasted marshmallow
Gourmet S'more #3: Rolo's S'more
2 graham crackers
2 Rolos
1 roasted marshmallow
Gourmet S'more #4: Fudge Cookie S'mores
2 fudge cookies
1 roasted marshmallow
Put the roasted marshmallow between the chocolate sides of the cookies
[video width="636" height="360" mp4="//www.jayco.com/blog/wp-content/uploads/2017/05/Gourmet-Smores-13MB-online-video-cutter.com-4.mp4" poster="/uploads/articles/blog/2017/05/sm2.jpg"][/video]
Gourmet S'more #5: S'more Dip
Marshmallow cream
Chocolate chips
Miniature marshmallows
Aluminum foil
Parchment paper
Tear off a large square aluminum foil. Add a square of parchment inside the aluminum foil. Place scoops of chocolate cream cheese and a dollop of marshmallow creme in center on top of parchment paper. Wrap up and place on campfire for 15-20 minutes, until melted. Use tongs to remove packet from heat. Sprinkle miniature marshmallows and chocolate chips on top. Serve with graham crackers of course!
Gourmet S'more #6: The S'more
This gourmet s'more may be our favorite one yet! No graham crackers needed for this recipe, just some peanut butter, two sandwich cookies and a toasted marshmallow to create this drool-worthy campfire dessert!
Gourmet S'more #7: S'more Cone
Waffle ice cream cone
Chocolate chips
Miniature marshmallows
Chopped fruit (bananas, strawberries, etc)
Aluminum foil
Mix miniature marshmallows, chocolate chips and chopped fruit in a cone. Wrap cone in foil. Lay wrapped cones over your campfire for 5-7 minutes; rotating occasionally. Use tongs to remove cone from heat. When the foil is cool enough to hold, unwrap cone and enjoy.
Gourmet S'more #8: S'more Burrito
Chocolate chips
Miniature marshmallows
Peanut butter (optional)
Flour tortillas
Aluminum foil
Spoon two tablespoons of chocolate chips or pieces, a dozen miniature marshmallows and peanut butter (optional) into the center of a flour tortilla. Roll up the tortilla, wrap it in foil, and set it on campfire coals for about 4 minutes, flipping it halfway through. Use tongs to remove the burrito from heat. When the foil is cool enough to hold, fold it down on one end and eat this sweet burrito treat.
Gourmet S'more #9: The White Chocolate Pineapple S'more
This recipe may be considered the fanciest of the bunch but it does not disappoint! All white chocolate lovers alike will have us to thank for this gourmet s'more recipe. All you need is your graham crackers, white chocolate, a golden toasted marshmallow and lastly pineapple (We later discovered that pineapple rings work much better with this recipe than the tidbits).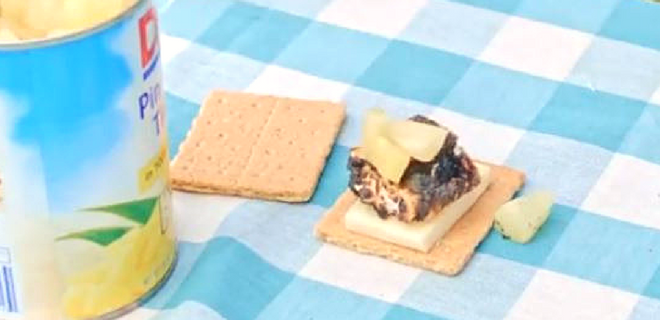 Gourmet S'more #10: S'more Golden Graham Treats
1/4 cup butter
1 (10 oz) bag regular marshmallows
1 box of Golden Graham cereal
1-2 cups Chocolate chips
Combine marshmallow and butter in a large microwave safe bowl. Microwave for approximately 1 minute. Stir mixture together until combined, microwaving in 30 second intervals until completely melted. Add Golden Grahams to bowl and stir until they are all well coated. Stir in chocolate chips. Pour mixture into a greased 9×13 pan and press evenly. Let cool at least 15 minutes before cutting into squares and going to town!
Gourmet S'more #11: Banana S'more
Bananas
Chocolate chips
Miniature marshmallows
Graham crackers
Aluminum foil
Slice banana lengthwise and slightly open. Place on a square of aluminum foil. Insert marshmallows and chocolate chips into the sliced banana. Wrap each banana up in foil and cook on the grill for 5 to 10 minutes. Use tongs to remove the banana from heat. When the foil is cool enough to hold, unwrap the bananas and top with a few tablespoons of crushed graham crackers. After the banana s'more has slightly cooled grab a spoon and dig in.
Don't be afraid to get a little creative with your s'mores next time you're around the campfire! Also, don't forget to share your favorite gourmet s'more recipes with us by using the hashtag #LetsJayco!
We hope you enjoy these tasty campfire treats. Subscribe to our YouTube channel and like us on Facebook for more fun campfire recipes to come!