AAA projects that nearly 100 million Americans will take a family vacation at some point in 2019.
While planning and budgeting for a family vacation can be daunting and sometimes the biggest obstacle to getting away with your loved ones, there are many options out there. One that is certainly becoming the most popular is RVing. A new study commissioned by Go RVing and the RV Industry Association, found that RV vacations cost much less than other types of vacation travel, even when factoring in fuel prices and the cost of RV ownership. According to the study, there are cost savings of 21-64% for a family of four.
Even better, RVs are becoming, more and more accommodating for families. Our Jayco Eagle HT 264BHOK travel trailer was the winner of the "Family Friendly" category at the RVX, The RV Experience show in Salt Lake City Utah in March. This was an all-new trade show put on by RVIA and featured industry stand-outs in many categories. One hundred sixty-five individual units were-submitted for awards, with some competing in multiple categories, adding up to over 400 competing in all the categories combined. Eagle HT 264BHOK stood up above the others and was chosen by an esteemed panel of independent consumer media and key influencer judges.
Jayco's 28-year-old Eagle brand has always focused on family fun with diversity in floorplans and features for each customer's unique camping style. While "couples-style" floorplans remain popular, Eagle's family-friendly bunkhouse floorplans have set industry trends for years through our unique use of available space, ample and easy-to-access storage, larger bunks with thicker mattresses, convertible furniture and beds, exclusive safety features, higher-quality build materials, and a long list of options, making Eagle highly customizable.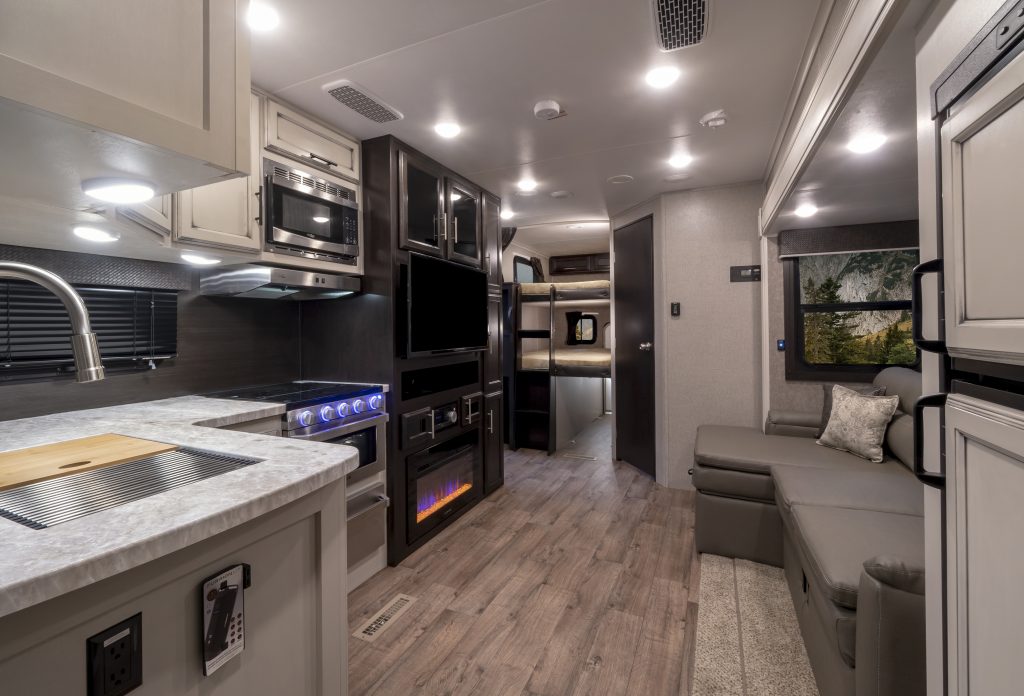 Keeping with Jayco's brand promise, "Generations of Family Fun," the 264BHOK bunkhouse offers:
• Sleeping for a family of 6-8
• Abundant exterior and interior storage capacity in a smaller floor plan.
• Unique integrated A-frame/drop-frame chassis build features fifth wheel-like pass-through storage and includes a color-coded Nautilus P2.5 universal docking station.
• Outside, patent-pending front cap integrated storage creates highly expandable space in a usually inaccessible area and can even be prepped for a generator.
• A large, rear-entry door and flip-up bunk offers easy bike or kayak storage.
Safety features include: • Patent-pending JaySMART™ exterior lighting • American-made Goodyear Endurance tires • Water-resistant outside kitchen with hybrid grill • MORryde StepAbove steps
To find out how the Eagle HT 264BHOK will accommodate your family click here to watch this product walk through.