Red maples and scarlet oaks are starting to pop with color in parts of Canada and the United States as we transition to the inevitability of a changing season. If you love fall foliage in all its glory, you should consider a fall leaf trip. It's a great excuse to take your RV out for another adventure before mother nature turns the landscape to winter.
Some consider Fall to be the most incredible time of the year. Gorgeous colors vibrantly encoring the end of summer as the trees put themselves to bed for the long sleep of winter.
Before you plan your big trip, let's talk about why leaves change colors.
It all starts with photosynthesis. Leaves typically produce their vivid hues of green from spring through summer into early fall through the constant creation of Chlorophyll. Chlorophyll is the key component in a plant's ability to turn sunlight into glucose, which feeds and nourishes a tree. Millions of these Chlorophyll cells saturate the leaves, ultimately making them appear green to the eye.
The major factor influencing autumn leaf color change is water, or in this case the lack of it. Not a lack of water to the entire tree, but a purposeful weaning of water from each leaf of the tree. Every leaf is affected by colder, drier, and breezy conditions of Fall weather and that is what kicks off a process which kills the leaf and eventually leads to the removal from the tree. The ultimate sacrifice of a leaf-bearing tree is the ultimate in visual pleasure for us.
The broadleaf tree goes through a process of sealing off the leaves from the stem (called abscission). This halts the flow of all internal water to the leaf and causes a color change. It also seals the spot of leaf attachment and prevents precious moisture from escaping during winter dormancy.
Chlorophyll is not the only player in the fall leaf-color game. Present in other leaves and trees are the compounds known as Carotenoids and Anthocyanins. As the Fall days begin to get shorter and shorter, the production of Chlorophyll slows to a halt, eventually giving way to the 'true' color of the leaf.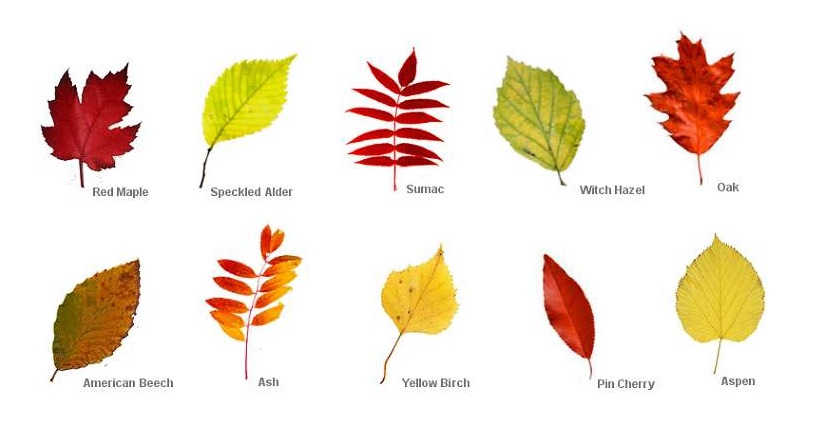 Now back to your trip planning
Rich hues of red, gold and orange leaves await on a fall foliage getaway. There are professional paid Fall foliage tours all over the country. To find the best trip for you, simply type fall foliage into your internet search engine and you will be presented with a variety of options. Take in stunning landscapes saturated in bold autumnal colors and explore historical sites while sipping warm cider to ward off the crisp fall air. Participate in insightful lectures from local naturalists and historians and enjoy regional and seasonal treats like pumpkin pie to complete your autumn experience.
Some Fall foliage tours include accommodations/RV parks, many meals, transportation and guided sightseeing in the upfront price. Independent fall foliage vacations include the RV park fee and may also feature a local host to help you plan your daily activities.
Independent Traveler
If you would rather see the sights on your terms and pilot the ship, planning will be a key part of getting the most color for your adventure. Below is new peak leaf-peeping prediction map to take the guesswork out of your fall travel planning.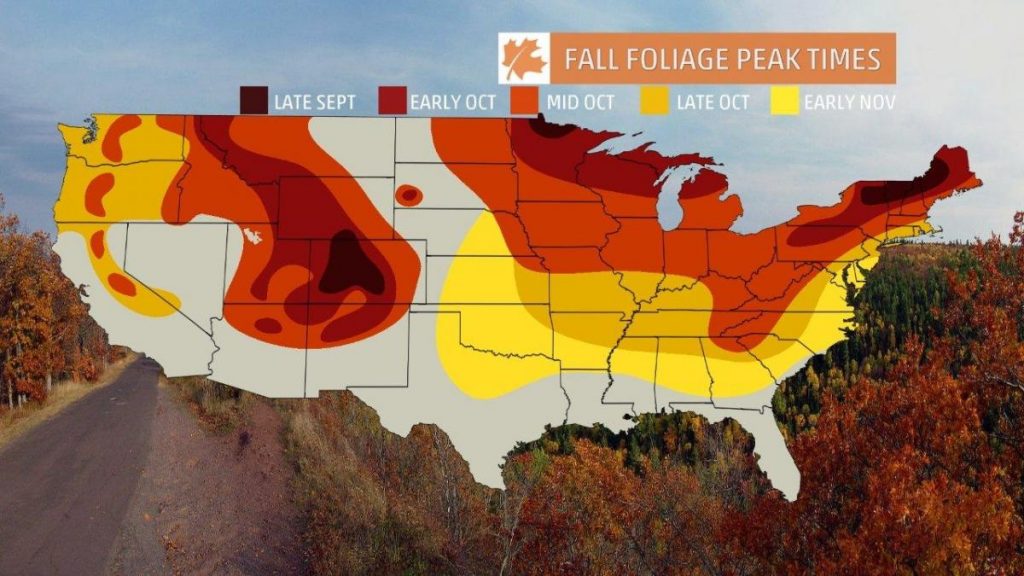 Fall foliage is the perfect excuse for a long weekend getaway, and this map will tell you when to expect the colors to peak—down to the county.
With hundreds of state parks and forests around the country, it might be overwhelming to pick the best place to view the displays. To narrow your search how about a little online assistance? This site offers a state-by-state guide to fall colors.
If you are more of a tech savvy traveler, there's an app for that…
Free Mobile App
Find and report on fall foliage. Leaf Peepr app helps fall-foliage fans find and report on the best and brightest colors all over the United States. Make foliage reports by posting photos, writing comments, and rating foliage status for your location. The current foliage color is determined by averaging user ratings in a geographic area along with your reports. There is also Foliage Map on this app you can utilize to find current foliage location rated by hundreds of fellow leaf peepers.
There are so many variety of trees to enjoy and color will be abundant if you pick the right location and travel at the right time. If you are interested, or would like a little help in indentifying what type of tree leaf you are looking at, this Fall Leaf I.D. Guide is for you. You can click on image to enlarge
Wherever Fall takes you, we here at Jayco hope you enjoy the ride and appreciate the breathtaking views of the beautiful renaissance of nature.