Inspired by our founder, Lloyd Bontrager, and his love of inventing, we have always been focused on innovation. But innovation also comes with trial and error and there have been a few times over our 50-plus year history where we may have stepped a little too far ahead of the industry's expectations, but we'll let you be the judge.
The Flipper
In 1974, we introduced the Flipper. The Flipper was an 11-foot, 6-inch sideways fold-down. The idea was spurred on by the Energy Crisis as the model could be towed behind subcompact automobiles. The reduced weight came from removing the bedsides and instead, building it so the beds flipped out. A pretty ingenious idea, but unfortunately it only stuck around in our lineup for two years.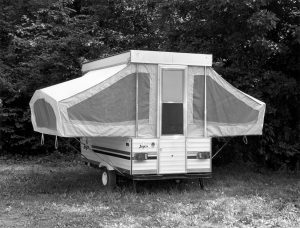 The Jay Tiki
We introduced the Jay Tiki in 1982. Again, the Jay Tiki was a spin-off of the original fold-down product. This time, the living area of the camper expanded by flipping out of the trailer and onto the ground. Originally, this one captured a lot of interest from the industry, but ultimately did not catch on in the market.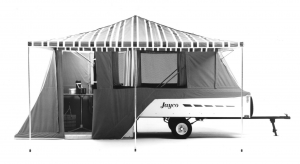 The Jay-Trek
In the early 1980s, we designed a travel trailer which was a four-wheeled trailer in which the front wheels steered the unit, taking the hitch weight off the tow vehicle and transferring that weight to the RV frame. Unfortunately, this idea was never brought to market.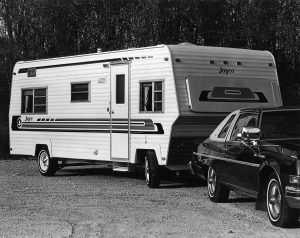 The Esprit
As an effort to reflect the bright, neon colors trend of the early 90s, we introduced the Esprit camping trailer in 1993. A regular 10-foot fold-down by engineering standards, the Esprit earned its "wow" factor in its exterior and interior design choices. You might want to put shades on before taking a look at this bright fold down. And as you can imagine, this trendy camping trailer ended up being a little too bold for most and had a relatively short lifespan.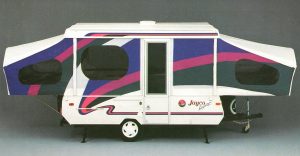 While these products may have earned a few chuckles or questions in their time, we've always walked away confident we've learned something from our innovative ventures and have carried those lessons into our next project. Experience more of our product innovation trials and errors here.