If you're a city dweller that has, or is thinking about buying an RV, there's an ownership factor that's bigger for you than suburbanite and space-rich rural RV owners: where to park your unit when you aren't using it. More of a consideration, yes, but by no means does it disqualify you from RV fun, having the chance to spend more time with family and friends and some good ol' fashioned fresh air. Here are some things to know about owning an RV if you live in an urban area.
A little help from your friends
It may be the best option: keeping your RV in a friend's driveway or backyard. You'll know who's watching it and can have someone quickly check on things if necessary. Here's a pro tip for you and your friend: look into homeowner association rules first. You'll find that some are surprisingly tough on what you can park on your property and where exactly.
Talk to a dealer
If a friend's property isn't an option, your next stop should be an RV dealer. They know your area, talk with other RV owners all the time and know what might be needed for the specific unit you own or are thinking of owning. Some dealers even offer storage, which can be a great solution. They usually charge monthly fees based on length. Need some maintenance or service performed? Having it done at the same place where you store your unit kills two birds with one stone. You can find your nearest Jayco dealer here.
RV trends are in your favor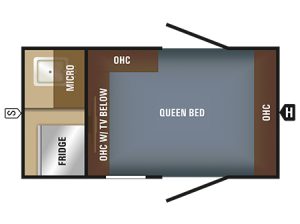 Especially in the towable sector, there are more small options than ever before. Having a garage isn't all that uncommon in an urban area, and more and more units are being designed to fit comfortably in them. Popular teardrop-style travel trailers, are designed with garage storage in mind. Our own Hummingbird , for example, includes a floorplan that's only about seven-and-a-half feet tall and 13 feet long, fitting nicely in the average eight-foot-tall garage.
A more legendary RV concept, the camping trailers (also knowns as pop-ups and fold-downs), are even more compact; one of our Jay Sport models folds down to just about four-and-a-half feet tall, measures less than 12 feet long and still sleeps up to six.
Think about a park model
What's a park model you ask? It's an RV designed and built to stay at its campsite for extended periods. Our take on this concept, the Jay Flight Bungalow, includes unique features like lots of big windows, a detachable hitch (for more space at camp), a central vacuum system, patio-style sliding doors and an atrium-style front wall. These long trailers are built for extended stays, less-frequent towing and, in turn, less time in storage.
Check Craigslist
The more people around, the more effective a tool Craigslist is. That's good news for RVing city folk. In addition to searching for just about any good or service, you can also post what you're in need of, like a space for your RV. You may find a mix of private citizens and businesses, so you'll definitely want to do your due diligence before agreeing to anything.
Fire up Google
A quick Google search with the term "RV storage" or "vehicle storage" and your location will likely give you some indoor and outdoor options. For those willing to pay, some facilities will pick up and deliver your RV. Cost and availability will depend on the size of your RV.
An RV provides the perfect opportunity to take a break from the hustle, bustle, noise and stress that can come with city living. No need to let storage hold you back from experiencing it for yourself.