One of the quickest ways to get to know yourself—the things you enjoy, the challenges you're capable of handling, and what you want more of in your life—is through traveling.
After all, history and research show we humans are curious and perpetually thirsty for knowledge by nature. RV travel, specifically, presents a unique way to learn new things about yourself, explore new places and talk to new people with different perspectives.
Expand your community and meet new people
Self-discovery is difficult to achieve within the confines of your daily grind. Although most of your life is spent around work and the people you love, true self-discovery comes from pushing beyond your normal haunts, habits, and circle of friends.
RVing presents more than the opportunity to meet people out on the trails, on the road, and at the campsite. It opens the doors to a whole new community of people and events you might not have been privy to before. What's more, with the exploding popularity of RVs, you'll find an increasingly diverse mix of folks at the campground
Unlike traditional travel, RVing allows you to immerse yourself more fully in your destinations, camp out in towns you've never visited. In some cases, you can even donate a few hours of volunteer work during extended RV trips in exchange for a place to stay in certain parks.
Taste something different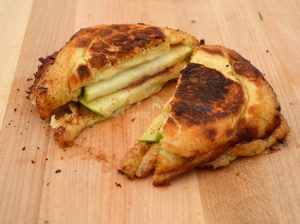 Some RVers already know meal logistics on the road can require some, let's call it creativity, at times.
However, RV travel affords you the opportunity to discover culinary shortcuts, best practices and recipes you might not have ever thought to use (or knew you liked) before. Not just that—RV travel opens up a world of opportunities for trying new and different things with your food.
Never made dinner over an open fire? Try it.
Working with limited kitchen space? Try a new recipe.
Meal planning goes way beyond knowing where and what you'll eat next. It can open you up to a world of local fare and new friends, and help you learn how to pack snacks for the long haul. All of it leads to new ideas and potentially new adventures (and delicious new discoveries).
If you're always on the lookout for new campground recipes, take our quick cooking quiz and we'll send you some tips and recipes tailored to your style.
Lean in to self-reliance
Whether it's successfully building a campfire, learning how to camp safely, or performing maintenance on your RV, your problem-solving skills have more chances to shine when you're traveling.
After all, just about everybody encounters at least a few unplanned events while traveling. The difference here is being open to experiences like budgeting for the road, fixing a flat tire, parking your RV at a campsite—it's knowledge most average Joes and Janes don't have, but can easily be gained if you're willing to give it a try.
Discover new activities
Even if you're traveling a popular route like Big Sur, the Blue Ridge Parkway, or Yellowstone National Park—there's no shortage of opportunities to break your habits (or your usual travel routine), and try something new.
See (and experience) art in new places
For some travelers, it can be easy to fall into a pattern of hitting up each major city's popular art museum and calling it a day. However, off-the-beaten path nooks present a new way to see and experience art during your travels.
Try a new outdoor activity
Geocaching (using a GPS to hide and seek objects outdoors), ascending to new heights, bungee jumping —if it's been on your list and you haven't done it yet, do it. You're already breaking routine by traveling—why not push your boundaries a little further by trying a new activity?
(Re)treat yourself
Self-discovery isn't always sparked through adrenaline-pumping adventures. Sometimes, getting back to your center can be just as revealing. Peaceful meditation, yoga and art retreats often provide RV-friendly accommodations for those looking to relax, unplug and re-center.
Whether you're traveling alone, with your family, significant other, or friends, you'll find out quickly what your strengths, weaknesses and boundaries are. You learn how to navigate setbacks and challenging situations. And what's more, you experience wonderful things can happen when you choose to push past your comfort zone.
Check the Jayco Journal for more useful tips and RV stories.