We love camping over a three-day weekend. It is amazing how much more fun you have— and how much more relaxed everyone is—when an extra day gets thrown into the mix.
They can also be a bit tricky for planning, though. We always want to pack in as much as possible without returning to work feeling exhausted and spent.
So simple and special is our three-day holiday principle, and we apply it on Memorial Day, Labor Day, Columbus Day, and any other extra-long weekend we are blessed with throughout the year. When it comes to food that means I want my meals to be delicious without requiring that I stand over a camp stove all day and then spend the entire evening cleaning up.
I follow a pretty easy formula when meal planning for a holiday weekend: one make-ahead meal, one slow cooker meal, and one camp stove/grill meal. This means I have a meal ready to go when we arrive late on Friday, a meal that can cook itself in the crock pot while we play all day Saturday, and a special camping meal that we can enjoy on Sunday before returning home the next morning.
Here are some of our family favorites from each category. There are many wonderful recipes for each of these dishes online, and I often change things up to keep them interesting. However, in this post I am linking to versions that I strongly recommend.
Make Ahead!
Chilaquiles: This Mexican casserole is so easy to make, and much simpler to serve than tacos. If I am really pinched for time I use a store bought rotisserie chicken. It takes about 15 minutes to prepare, and I bring along sour cream and salsa for toppings. Fruit salad is a great side for this dish.
Meatloaf: This did not initially seem like a great 'camping' dish to me until a friend suggested leftover meatloaf sandwiches and I was sold. This easy version only takes about 10 minutes to make and freeze. Throw a couple of pounds of baby red potatoes into the pan before cooking and you have a crowd-pleasing dinner.
Pasta Salad: I was never a big fan of the traditional pasta salad, but I LOVE pesto and once I started using that instead of Italian dressing, this became a favorite. I switch it up with whatever pasta and veggies I have on hand, always omitting the lettuce, because my children act like it is poison. This is a great, hearty meal to throw on the picnic table as soon as you arrive at camp.
Slow Cooker!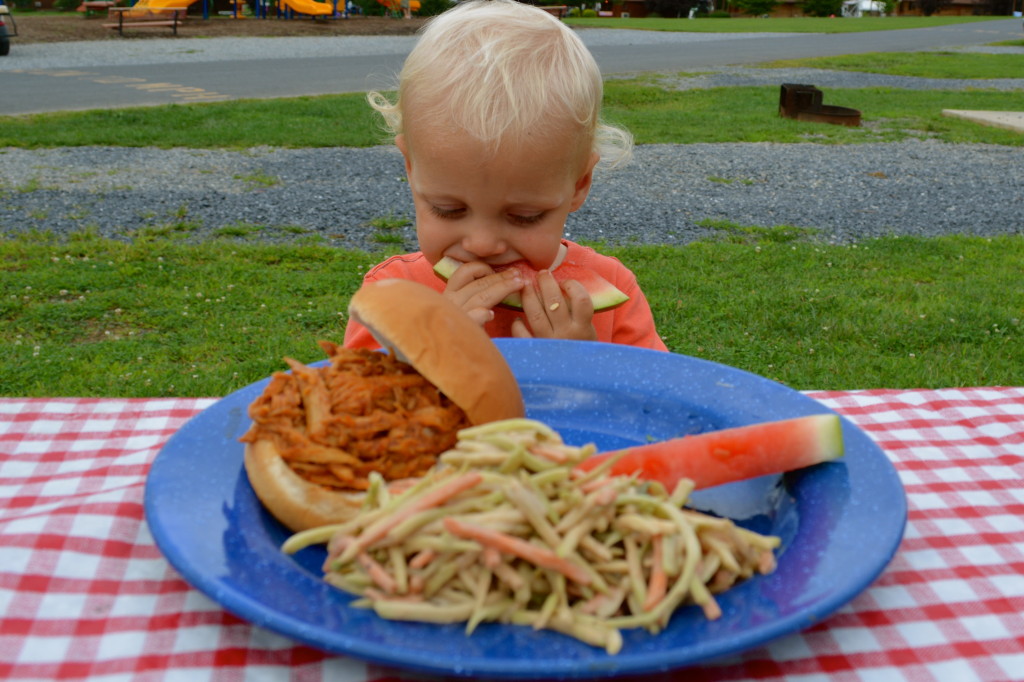 Pulled Pork Sandwiches: This is Jeremy's favorite meal in my camping rotation and it doesn't even require a recipe, though there are a million out there. Just put a pork shoulder (or whatever cut you have) in the crockpot, add a sliced onion and few chopped cloves of garlic, pour over your favorite BBQ sauce, and cook all day. Serve on rolls with coleslaw and watermelon.
Macaroni and Cheese: Yes, there is a delicious slow cooker version of this, and it will make your kids swoon. If you are camping when the weather is cool, this dish will warm everyone right up. I do the requisite chopped ham and peas to make it a complete meal. The last time I served this, our friends said it was BBQ-joint quality mac and cheese. I promise you won't have leftovers.
Salsa Chicken: You probably won't believe how good this is. Simply place chicken, salsa, and beans in your slow cooker and I promise you will have a great filler for tacos. My boys will currently eat anything in a tortilla, so this is a go-to recipe for me. Add your family's favorite toppings and you are D.O.N.E.
Camp Stove Cooking!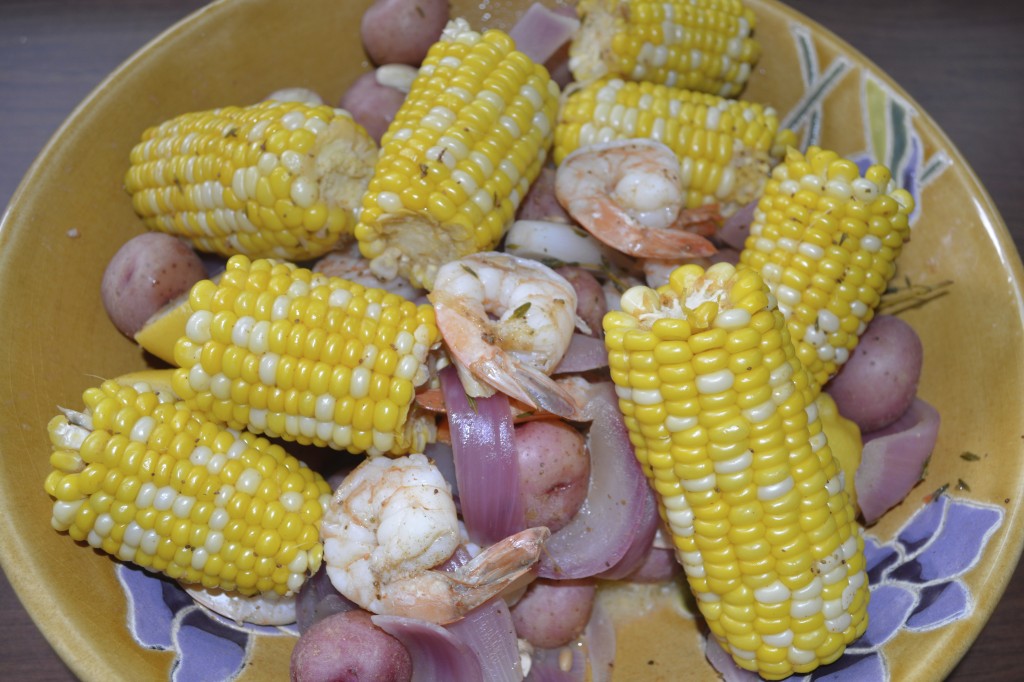 This is when the burgers, hotdogs, steaks, and wings shine in all their glory. If you are looking to take it up a notch, check out Campfire Cuisine, my favorite camping cookbook. I make the spice rubs ahead of time in small ziplock bags, and then it only takes me a few minutes to get everything on the grill.
Thinking outside of the box? If you are celebrating the beginning or the end of summer (or any weekend in between) there is no better way to do it than with a Shrimp Boil. Easy, delicious, and perfect for a crowd, this is hands down my favorite summer campground dinner. All you need is a big pot and a burner. Try it once and I think you will be hooked.
We love bringing new meals to our camping table. Please share any camping favorites in the comments below!
Jeremy and Stephanie Puglisi blog about camping and traveling with their three young children at rvfta.com