The transition from one year to the next is a great time for reflection, a time to look back at the successes and failures as one prepares for the clean slate of a new year ahead. As RVers, we tend to do this as we wrap up a camping season and winterize for the cold months ahead. In 2016, our family completed our second full year of camping, as well as our second cross-country road trip. With over 10,000 miles and 60 nights of RVing under our belt, we've encountered some speed bumps and some smooth roads along our journey.
Hitting Those Speed Bumps
When you put yourself out there and take new risks, you are bound to encounter some speed bumps. Your family will have to problem solve in new ways, but you will get through it. Here are a couple of lessons our family has learned:
1) Tire maintenance is serious business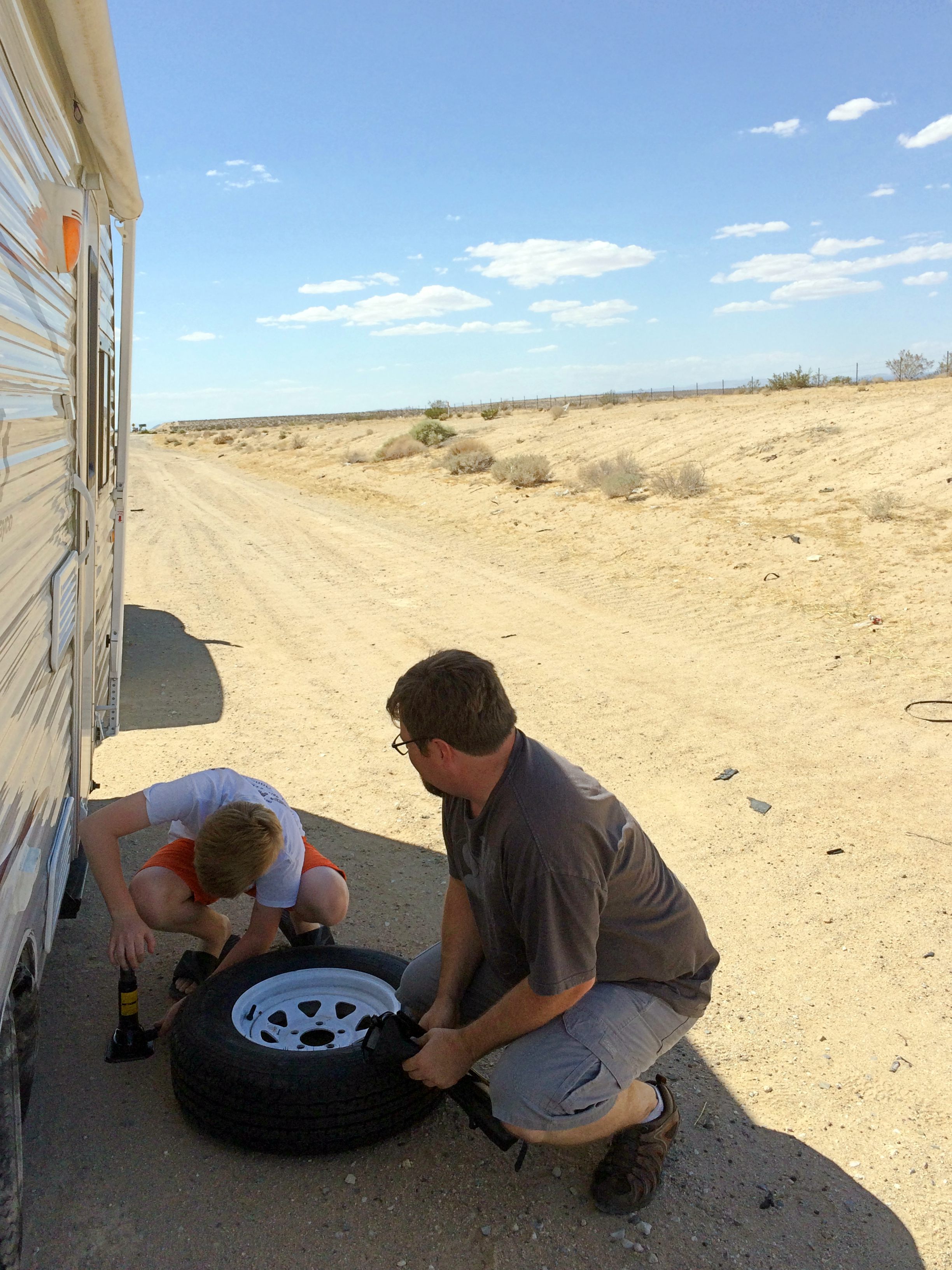 After a tire blowout caused by an under-inflated tire, we began filling ours a nudge above the recommended amount, which was a fine idea until we took a journey across the Mojave Desert on a hot summer day. Blowout #2 not only destroyed the tire, but it also blew a hole through the wheel well, exploding splinters of wood and bits of tire into our kitchen cabinet. Our RV still smells like burning rubber every time I use the toaster thanks to the miniscule bits of tire that landed inside of it. Lesson learned: Check those tires! We now check the pressure on any day of travel, and we replaced our older tires with newer ones. We take our tire maintenance very seriously after seeing the consequences.
2) You may be grumpy, even when you're on vacation
There's a mistaken notion that vacations are full of sunshine and roses. I may help perpetuate that notion in my Instagram photos. However, vacation is still real life, and this is even truer if you're on a 25-day road trip. There are times when you are overwhelmed by the decisions to make, there are times when you've over planned and worn yourselves out, and there are times when you haven't had a proper meal in way too many hours. For us, full-on grumpiness happened to hit when we first arrived at Yosemite National Park. Three out of four family members were fussing. At one point, I sat on a stump pouting beneath the grand specter of El Capitan.
This wasn't the highlight of my life as a traveler, nor was it the highlight of my life as a mom. Instead of leading my family forward, I was acting like a child. Luckily, it didn't last long, as we trudged along and found lunch. Once we were properly fed, I realized we had been pushing ourselves really hard on this trip to cover a lot of miles and see every spectacular site we could see. We had overdone it, so of course, we were grumpy. I also realized I could have had the same temper tantrum in my living room—it was much better to be having it in the spectacular setting of Yosemite. Lesson learned: Your family isn't always going to plan well or play nice on vacation, but you can persevere and still make wonderful memories (along with the not-to-wonderful ones). Second lesson learned: Carry some nuts or trail mix at all times to avoid getting "hangry."
Smooth Roads
It won't always be easy, but it will be worth it. Despite the problems we've faced along the way, our RVing journey has been worthwhile, especially when we've encountered those smooth roads with beautiful sites along the way.
After only a couple of short trips in our trailer, I jumped in and planned a huge cross-country road trip for the next summer. As the departure date ticked closer, I worried about all of the things that could go wrong. We knew nothing about the terrain we'd encounter or the towns we'd be visiting, not to mention the roadways that would take us over mountains and through big cities. Could we handle this? The answer is YES. We did it—twice, in fact. I could have let the fears and worries hold us back, which would have prevented us from making some amazing memories and seeing some awe-inspiring places. Lesson learned: Don't let fears keep you from dreaming big. With proper planning and a map app, you can go anywhere.
2) RVing can change your life
When we bought our RV, I looked at it as a utilitarian thing…a place to stay as we traveled. In the years since, it has become so much more to us. Having this travel trailer has made me committed to seeing and doing as much as we can whenever we can with the years we have left before our sons leave for college. Every extended weekend and summer vacation is now seen as travel time. RVing isn't just about seeing new places, though. For our family, it has offered a chance for us to connect more deeply.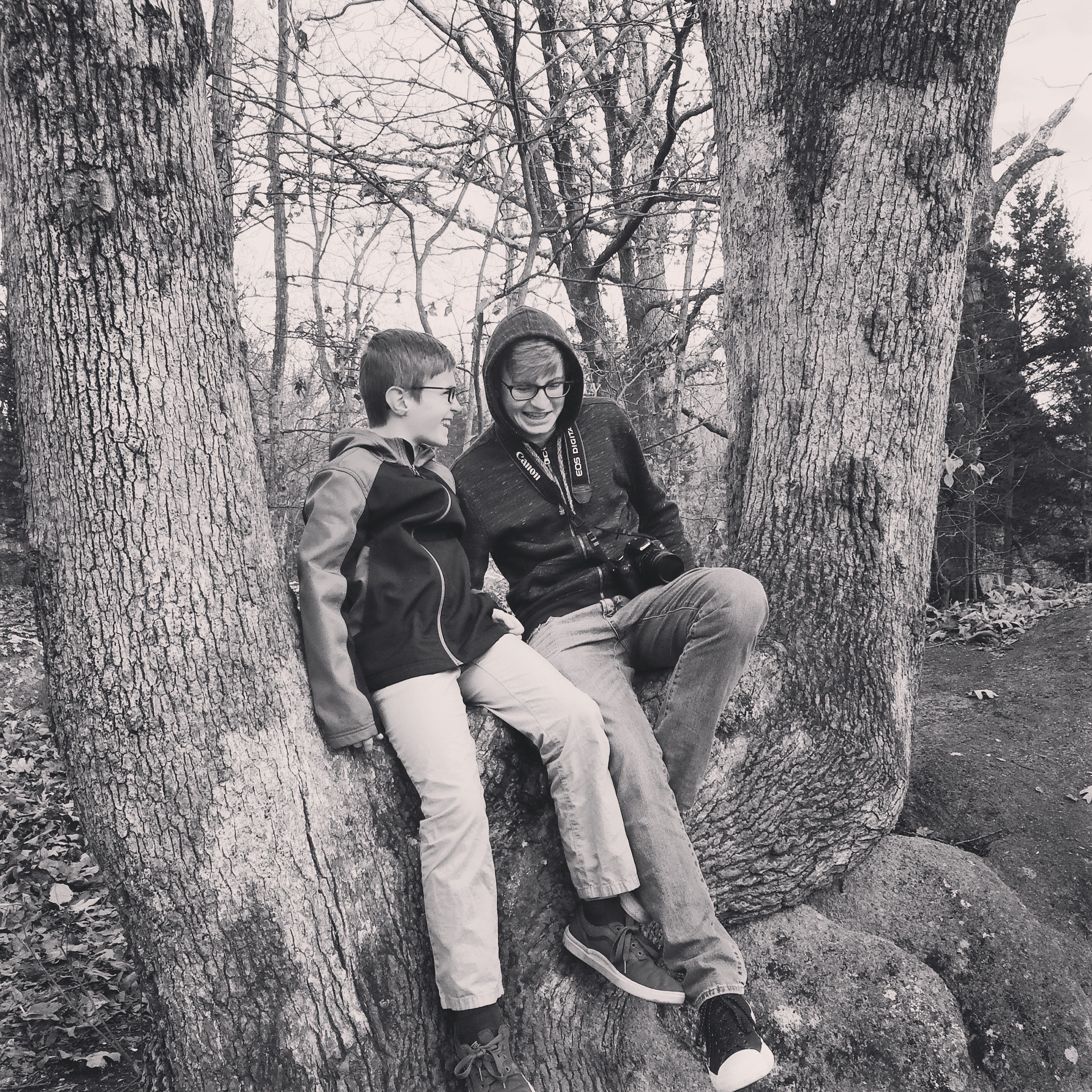 This connection comes in the small moments as well as the big ones. I treasure the time spent playing cards at a picnic table as much as I treasure the time standing on the rim of the Grand Canyon. This year, we opted to spend Thanksgiving at an almost-empty state park campground in the middle of nowhere. Our afternoon meal consisted of semi-frozen deli turkey, which we attempted to thaw in front of our small space heater—a memory we won't soon forget. Unlike most people, I wasn't craving a turkey with all of the dressings for my holiday; instead, I was craving a connection with my family, and that's just what I got. I've taken the motto "we travel not to escape life, but for life not to escape us" to heart. Lesson learned: RVing isn't just about traveling; it's about so much more.
Final Thoughts
As you head out for your future RV journeys, buckle up. There is a lot to learn along the way, but you'll do it. You will look back on those speed bumps with a laugh someday, and you will feel just like a dog sticking its head out the car window whenever you encounter those smooth patches of road. Journey on with gusto and embrace the lessons to be learned. Don't let life escape you.
Kerri Cox writes about her family and RV travel at travelswithbirdy.com. You can also follow their adventures on Twitter (@travelwithbirdy) and Instagram (@travelswithbirdy).