As the summer comes to a close, that urge to travel could be even stronger. And in light of COVID-19, many are looking to hit the road—rather than taking flight. Still, depending on the area to which you're traveling, hotels or other accommodations might not be all that appealing either. That's where RVing comes in. Let's compare and contrast the two options:
Safety
Statistics show that interest in RVing is exploding right now because people feel that it's the safest travel option—and they're right. Consider the advantages:
• Built-in bathrooms, so no need to use public facilities
• Built-in fridge and kitchen, so you can avoid eating in restaurants
• Staying in your RV means no need to interact with others or be in common indoor spaces (as with a hotel)
• Campsites tend to offer plenty of room to social distance—the further out in nature, the safer you'll be
In addition to the safety of social distancing, look for an RV that comes equipped with the latest safety features—including seat belts in all seating positions, safety lights, quality construction and tires, and reliable security features.
Cost
While RVs involve an initial upfront investment, financing options can make them quite affordable—in some cases less than a monthly car payment. And the savings pay off over time. According to a recent report, the average daily hotel cost in the U.S. was a little over $131. Considering the fact that many campsites are under $50 a night (some even free!) you could save roughly $650—or more depending on the price of your hotel—when you RV.
The other cost benefit of RVing is the fact that you can cook your own meals rather than eat out. And let's face it—campsite cooking is an exciting break from the norm! Some RVs even come equipped with outdoor kitchens with all the bells and whistles so you can enjoy the outdoors while cooking a gourmet meal.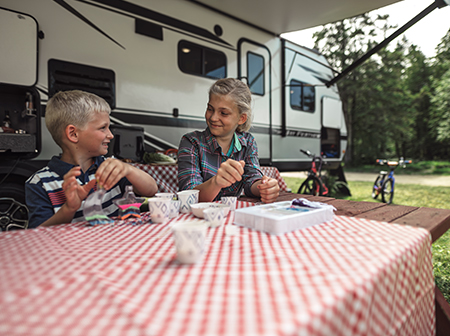 As for keeping the gang entertained, RVing makes that easy to do on a budget, too. At most campgrounds, activities are all around you: swimming in a lake, taking a long bike ride, exploring a forest, hiking a mountain or telling stories by the fire typically won't cost you a thing and there's no reservation required.
Comfort
Staying at a luxury hotel is no doubt comfortable—but at what cost? The latest RVs come equipped with all the comforts of home—from plush (sometimes king-sized) mattresses to spacious showers. You can even get a big-screen TV and fireplace for those chilly, rainy nights!
The other thing to take into account in the comfort department is that it's a lot easier to bring along the things from home that make you most comfortable when you travel by RV—from your own bedding and kitchen accessories to books, entertainment and even furry friends. Afterall, only so much fits in a car—and it isn't fun hauling it to and from your hotel room.
Flexibility
Changing plans mid-vacation can be tricky when hotel bookings are involved. Cutting your reservation short—or trying to extend it—could incur hefty fees. On the other hand, many RVers cite flexibility as one of the best parts of owning a trailer or motorhome; not only can you pick up and go on a whim, you can cancel, change or extend your trip without any of the consequences that come with flights and hotels.
Are you planning to hit the road this summer? Check out our camping personality quiz to see what kind of camper you are—and get tips tailored to your interests.