When it's spring in Colorado, you have to be ready for anything Mother Nature throws your way. By mid-week, the forecast for the weekend was sunny and warm so we decided on Wednesday to take out our new, 2016 White Hawk 24MBH for a long weekend. Other than a one-nighter at a local state park, this was to be our first real, out-of-town camping trip.
For this first multi-night trip, we set our sights about two hours south to Cheyenne Mountain State Park in Colorado Springs. Most state parks in Colorado are sold out well in advance and this was the last weekend of first-come, first-served camping before reservations would be required. We decided to throw caution to the wind and take a chance on getting a campsite for the weekend. As a Griswold-esque trip-planner this was a little uncomfortable for me, but there are several private RV parks close by should we be unable to get a site at the state park.
Our kids had no school on Friday so we wanted to get on the road by 9:30am with the goal of rolling into Cheyenne Mountain in time for the noon check-out/check-in time figuring this was our best strategy to land a campsite. This meant making sure the trailer was mostly packed and ready by Thursday night. With my wife and I both working Thursday, we knew this would be a big challenge to bite off for our first trip.
I am happy to report that we arrived at about 1:15pm and managed to snag one of the last two spots available. We had a great weekend exploring Garden of the Gods and the Cheyenne Mountain Zoo, as well as just hanging out at the campground enjoying the views from the side of Cheyenne Mountain.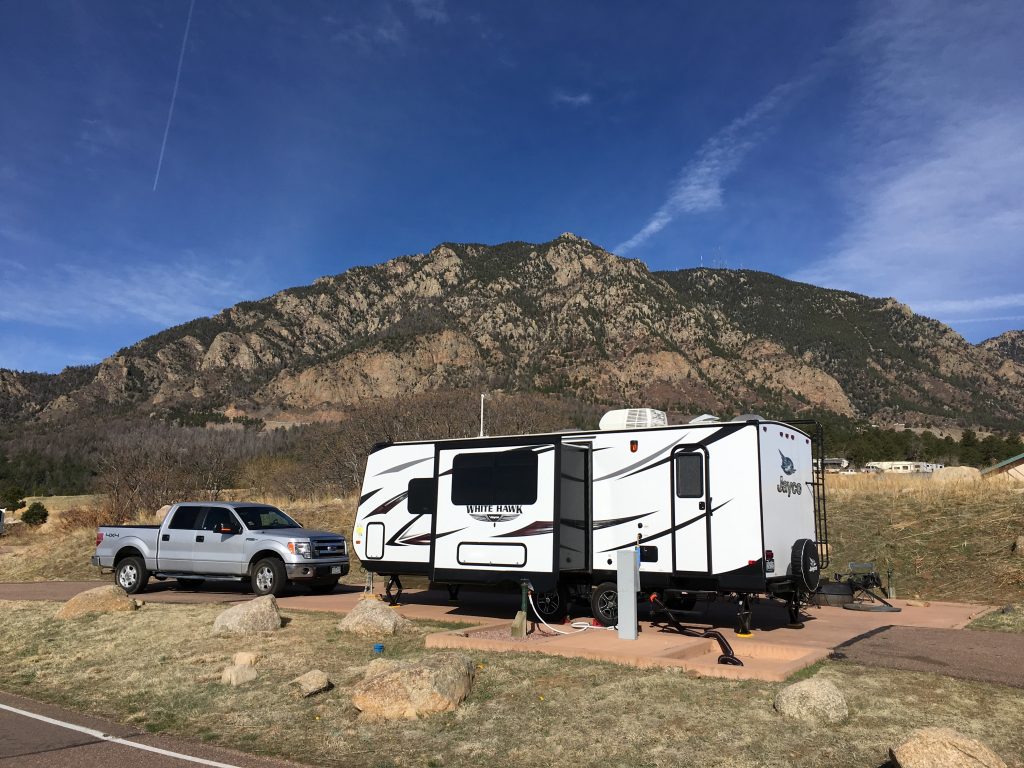 Here are a couple things we learned this first weekend on the road that we hope to put into place for our next trip:
Lists are everything. We didn't forget anything mission critical (unless you count my coffee, which is as close as you can get to mission critical…) but there were a few little things we need to make sure to remember. Like peanut butter for sandwiches and butter for pancakes. Nothing a quick trip to the grocery store didn't fix, but if we were camping farther from civilzation, that would not have been an option.
Packing for an RV trip is very different than packing for other kinds of travel. When you travel with a travel trailer, you don't really "pack a suitcase" in the usual sense. When we travel by plane, we are pretty strict non-bag-checkers. That means minimalist packing and one bag for everyone, kids included. When we road trip by car, we can bring a few more goodies, but we're still mindful that everything has to be hauled into and out of the hotel. With RV travel, you have to be careful not to get carried away, but you can bring along a few more creature comforts and not have to worry so much about packing light. For example, that extra pair of sandals or slip-on shoes for bumming around the campground or maybe a fleece and a jacket in case it gets cold at night.
Where you pack matters as much as what you pack. This seems obvious, but it's another travel habit you need to break when you travel in an RV. On our first overnight, the kids packed backpacks and brought them in the truck. Then we realized the closets and storage areas in the trailer were empty, but we were constantly tripping over the backpacks. For this trip, we got smart and packed the kids' clothes in packing cubes and put them in the closets before we hit the road. This made the inside of our truck a lot more comfortable and helped us make better use of the space in the trailer.
Be religious about putting things back where from whence they came. At home, it's pretty easy to just toss the kids' book bags on a chair in the dining room, or leave out multiple small appliances on the kitchen counter. When you're rolling in a smaller space, however, you do need to be more careful about leaving stuff out. On our shake-down trip, we realized we were constantly moving things from the counter to the table to the couch and back again. On this trip, we were much more deliberate about putting things back where they belong if we weren't using them. I even hung a few Command Strip hooks on the walls for things like jackets, hats, and towels since floor space can be a precious commodity in an RV.
We still have so much to learn, but this first weekend trip showed us that with some minor tweaks and adjustments, we will have this RVing thing figured out in no time!
This post was written and provided to the Jayco Journal by Scott Elias.