When it comes to packing your RV for a weekend or long-haul adventure, every inch counts. It's why having bright design minds—like the dozens of engineers and highly-thought-of product directors here at Jayco—makes all the difference. From a hanging hook in just the right place to walk-in closets, every RVer knows they can never have too much functional storage space.
Let's take a look at some of the designs and features that are making it easier for travelers to bring more of their favorite gear, goodies and garments with them.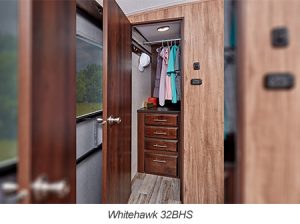 Walk-in Closets
Some of today's larger RVs, like our Pinnacle luxury fifth wheel, include walk-in closets! This residential storage space allows you to bring plenty of clothes for long hauls and to be prepared for changes in climate. What's more, we line our walk-in closets with cedar, so you can rest assured your clothes will stay preserved.
Kitchen Pantries
Spacious kitchen pantries offer the opportunity to bring your favorite snacks, ingredients and cooking tools with you to camp—and bring your favorite local delicacies back home. Plus, if you don't need the space for extra kitchen goods, modular shelving can sometimes be removed so the area can serve as an extra hanging closet. It's the height of RV convenience no matter how you slice it.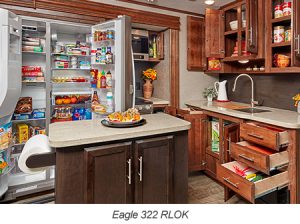 Full-Extension, High-Capacity Drawers
Not all drawers are created equal. Having a lot of drawers doesn't necessarily mean there is a lot of drawer space. Drawers that extend fully and can bear a lot of weight (ours can handle 75 pounds) is one great example of the smart design we incorporate into each of our RVs.
Convenient Compartments
At first glimpse, it may not seem like much, but removable tote bins that you'll find under several of our dinettes are oh-so-convenient. They make organizing simple and provide easy access to those little necessities right in the heart of the living area.
Under Beds and Bunks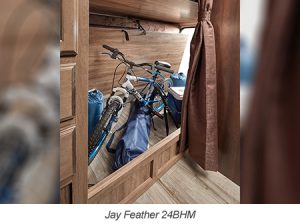 Just like under dinettes, there's no reason to waste the space under sleeping areas, especially when in transit. You'll even find bed platforms with gas struts that make it easy to open and close this bonus storage area.
Pass-Through Storage
This popular exterior storage design provides good visibility and allows for access from both sides of the unit. It makes loading and unloading large gear a cinch. Two of our White Hawk floorplans (23MRB and 24MBH) have become popular because they provide the space-saving feature of a Murphy bed without sacrificing full pass-through exterior storage.
Maximizing Wall Space
We're always looking for ways to maximize the efficiency and practicality of under-utilized spaces. One of those areas is wall space. We're incorporating more and more cabinetry, netting, hooks and compartments on the walls and overhead. These go a long way. Having tissues or a flashlight there when you need it, or an extra hook to hang coats, hats or towels helps avoid clutter and means items are handy when you need them most.
We know RVers get creative when it comes to packing gear and using space. We'd love to hear about your storage hacks or any suggestions you have for us. Share them on our Facebook page or tag us in your photos on Instagram.