There's no denying it - the post-trip cleanup isn't your family's favorite part of traveling. You pull into your driveway after a long adventure and you can't wait to go inside and unwind. Don't start that bubble bath just yet, you still have an RV to clean and unload! We've compiled the ultimate post-trip cleanup checklist that will ensure your cleanup and unloading process is quick and pain free!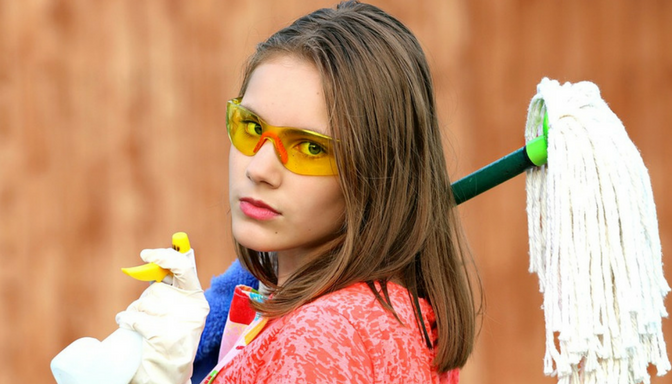 ✓ All hands on deck
Include everyone in your post-trip cleanup! Assign jobs to each family member and find routines to make the process more efficient. Having all hands on deck will not only make the process go quicker but it will teach your family that cleaning up is part of enjoying the next trip.
✓ Have fun
Everyone is likely exhausted from the long trip, so create fun and friendly competitions between family members to see who can get their chores done the quickest.
✓ Remove anything that may expire
Go through the contents of your refrigerator, freezer and cabinets. The last thing you want is an unexpected mess when you take off on your next trip because you forgot about those bananas in the back of your cabinet.
✓ Leave no trace of food crumbs
If you do, uninvited critters may find their way inside your RV! Be sure to keep a handheld vacuum on board so you can sweep up any leftovers that might attract uninvited guests while you're away.
✓ Sanitize and "scentitize"
Sanitize countertops, sinks, the bathroom and anything else that may need wiped down. This will allow for a fresh clean smell when you return to your RV for your next big adventure! Also, leave fresh smelling scent plug-ins throughout your unit to keep mildew or other unwanted scents to a minimum.
✓ Change out all towels and linens
Change out all the towels and linens that were used during your trip. You will thank yourself later when you're preparing for your next adventure!
✓ Utilize labeled bins and bags
In order to keep your RV a "clutter free zone" use marked bins and bags so that miscellaneous items can be put back where they belong. The cleaning process will go much quicker if everything has its own place.
We hope this checklist allows for a much more pleasant post-trip cleanup experience. Cleaning and unpacking may not be the most fun or glamorous part of your RV escapades; however, doing them well can make preparing for your next big adventure feel like a breeze!