Meet Scott Elias and his family, owners of a White Hawk travel trailer. We caught up with them after their first adventure in their new unit to find out more about their experience!
How did you decide to buy an RV?
Buying an RV was something we've thought about on-and-off. We've done "hotel road trips" for years, but so many of the great places to explore in the West are not really close to a hotel. We also like the idea of being relatively self-contained. My wife has some dietary restrictions and there's great peace of mind being able to bring and prepare our own food and not relying on a restaurant to make something to order. It's really all about quality time with the family where we can disconnect, literally and figuratively, and just enjoy being together.
What Jayco unit do you currently own?
2016 White Hawk 24MBH
How many people normally go on your trips (pets count too)?
Four of us: Mom, Dad, and our son (11) and daughter (9). Occasionally accompanied by our two rescue dogs Aspen and Mocha.
How did you use your Jayco in the first 1,000 miles?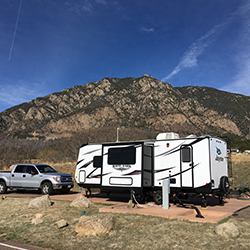 We've only just started, but our goal is to use it for one or two longer trips each year, as well as a few long weekends.
Where did you go?
So far, we have camped one night at Boyd Lake State Park in Northern Colorado for our "shake down" trip and enjoyed a long weekend at Cheyenne Mountain State Park in Colorado Springs, Colorado.
What was your favorite memory from the first 1,000 miles?
From our first two trips, our favorite memories are walking through the Garden of the Gods and feeding giraffes at the Cheyenne Mountain Zoo.
What is your favorite feature about your Jayco RV?
It's a tie between the Murphy Bed which gives us so much floor space when it's up and the outside kitchen which gives us the flexibility to cook what we want, where we want.
How did you decide to buy a Jayco?
Jayco has a reputation for quality. That, combined with the two-year warranty, were what kept bringing us back to Jayco during our months of shopping.
Do you have any tips for new RVers?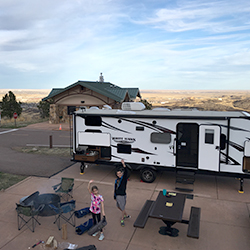 Figure out what's in your budget and what you can tow or drive, and just jump in! Our kids are getting older and we wish we'd made the decision years ago. I camped as a kid with my family in a pop-up and later in a travel trailer and I still remember our annual cross-country road trips. I want my kids to have those memories as well.
Would you recommend Jayco to your friends and our blog readers?
I absolutely would! When you walk through enough RVs, the build quality and extra "nice-to-have" features you get in a Jayco really stand out.