Neil Potter and his young family are proud owners of a Jay Feather. We caught up with them after their first 1,000 miles to find out how they used their unit and what they learned along the way.
How did you decide to buy an RV?
My wife and I grew up in Florida. A couple times per year, my parents took our family up to North Carolina to tent camp (tents, tarps, propane stoves, gear, the whole nine yards). Camping was a big part of my childhood and some of my most vivid childhood memories surround a camp site. My wife, on the other hand, did not grow up camping.
Now that I have a family of my own, I wanted to start building memories for my kids. I tried a few tent camping trips... my wife did not have the best time. As it turns out, an RV was the best of both worlds for my family. I get the camping/gear/adventure experience - my wife gets the comforts of home.
What Jayco unit do you currently own?
2016 Jayco Jay Feather 23BHM.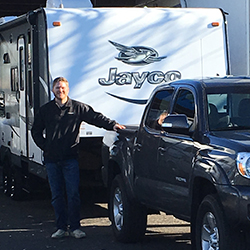 How many people normally go on your trips (pets count too)?
Two adults, two kids (ages six and one) and one 30lb Golden Doodle.
How did you use your Jayco unit in the first 1,000 miles?
Our first trip was quite the experience! We live in Portland, Oregon, so we waited for a nice weekend weather report (mid-January 2016) and headed out to Cape Lookout State Park in the beautiful Oregon Coast. This was my first real long distance towing experience with family and full gear. My 2014 Tacoma pulled the Jayco up and over the 1,500ft. elevation pass with no issues. Our family had a blast in the RV – games, movies and popcorn, meals and even hide-and-seek in the RV (ha- kids are funny). Unfortunately, due to an unexpected freeze/snow, our two-night maiden camping trip was converted to a three-night maiden trip due to frozen roads back into Portland! Luckily for us, we were towing a house behind us. We attempted the drive home and quickly realized the roads were far too icy for safety. We simply turned our rig around, headed back out to the state park and enjoyed an extra night of fun!
Where did you go?
Cape Lookout State Park, Tillamook, OR
Silver Falls State Park, Silverton, OR
Kah-Nee-Ta RV Park, Madras, OR
What was your favorite memory from the first 1,000 miles?
The night we were stuck on the coast for an extra night due to icy roads, we got to pick any campsite we wanted (it was an off-season Monday). We found the most incredible RV campsite which included a natural playground of downed evergreens. My daughter had the most amazing time playing in that camp site which we never would have stayed at had we not been snowed in.
What is your favorite feature about your Jayco RV?
The murphy bed. When that bed is up, our 23' trailer feels like a 30' trailer.
How did you decide to buy a Jayco?
I knew the Jayco name, Jayco had all the features I needed/wanted in my weight requirement, and the price was right.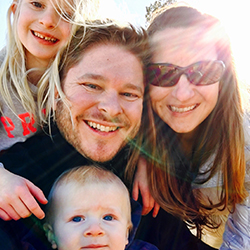 Do you have any tips for new RVers?
1. Find an empty parking lot and practice parking.
2. Schedule your trips early (6-9 months in advance).
3. Winterizing is not as hard as it sounds.
4. Don't be afraid to use the trailer brakes- especially in situations where the trailer weighs more than the tow vehicle.
5. Have fun!
Would you recommend Jayco to your friends and our blog readers?
I DO recommend Jayco – excellent product at a great price point!