Studies have shown that vacations are good for both your physical and mental health. It's also good for busy professionals. Both the anticipation before and relaxation during a vacation boost morale and productivity. But where do you find the time?
That's where an RV comes in. There are several ways RVs make it easier to find the time to get away, explore or spend quality time with friends and family. Here are just a few.
Shorter travel distances
With an RV, you don't have to go far to feel like you are getting away. Heck, you can even spend a night or two in your own backyard—deep breaths of fresh air under the stars, gooey s'mores, ghost stories, falling asleep to the sound of crickets and waking to birds chirping can be refreshing no matter where you are. What's more, there are approximately 15,000 privately or publicly owned campgrounds in the US alone. You're never too far from a great camping destination, even if you live in the heart of a big city.
Flexible trip styles
RVs are adaptable to all kinds of trips, which provides a lot of scheduling flexibility. An RV can serve as your home away from home at the beach, near a theme park, or just outside a bustling metropolis, and they are the ideal event companion. They open the door to all kinds of travel possibilities; yet another is seasonal camping. This is when you leave your RV at a campsite for an entire season. Hooked up, plugged in and stocked, they're ready for long weekends or overnight trips at the drop of a hat, and towing is minimized. There are even RVs tailored to this type of travel, like our Jay Flight Bungalow.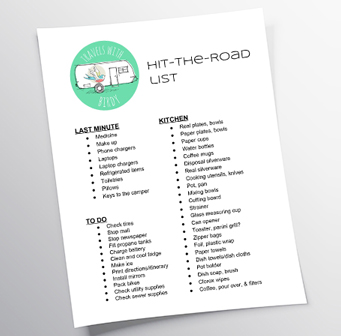 Less packing and unpacking
You can keep your unit stocked with whatever gear you need for your favorite activities. Many units come equipped with large storage areas under the living area. There are also strategically used spaces inside most units, like under the bed or the dinette seating. Approaches like keeping a simple master packing list, similar to this one from our RV blogging friends at Travels with Birdy, make it easy to keep track of what's in your unit and what you may need to stock up on before your next trip.
Turn the key and go
One of the beauties of owning a motorhome is the ability to up and leave at a moment's notice. Hear about a fun festival a couple of hours away? Hop in, go and maybe spend a night. Your fellow campers raving about another campground just a little further up the road? Go check it out for yourself, right now. In a motorhome, there's less setup and tear down when you're coming and going.
Simple camp setup
Motorhomes allow you to hit the road quickly, but today's towable RVs make things pretty simple too. Our compact Hummingbird, for instance, is not only a breeze to tow, but transitions from the road to camp-ready and back in a flash with the help of four stabilizer jacks and pads. Larger trailers feature electric auto-leveling systems, making campsite setup quick and safe—pull in, press a button and let the fun begin.
Work from the road
Nothing saves time like doing two things at once. If you own a small business, work remotely or are on the hunt for a job that allows you to travel, there's a chance you can work from your RV. Commonly known as workamping, its growing popularity is evidenced by companies like Amazon dedicating employment programs to it. In addition to fulfillment and logistics opportunities, flea marketers or professionals who travel from event to event find it a great way to maintain work/life balance. Toy haulers, with their large rear garage area, are popular among those who have decided to combine business and pleasure.
Whether you're the type that gets the itch to hit the road every time Friday comes around, prefer to take longer, less frequent trips or are looking to combine work and play, RVs are a natural fit. Curious about which type of RV best fits your travel style? Check out our Buyer's Guide Tool.
Additional Resources
The Many and Varied Benefits of RVing