If you've recently signed on the dotted line or are still considering an RV purchase, you are in good company. According to a Kampgrounds of America (KOA) 2017 North American Camping Report, "more than 6 million new North American households have adopted the camping lifestyle since 2014." The report also estimates that growth among campers who take three or more trips annually has increased by 36 percent.
Numbers like those should be strong reassurance that the benefits of the RV lifestyle—which are many and varied—far outweigh the little-extra elbow grease and organization that come with it. And we're here to give you even more peace of mind with some handy tips to help avoid some of the most common new-RVer mistakes.
If you're still shopping, you can find all kinds of handy advice, from how to approach your visit to the dealership to navigating RV shows, here.
So, as you prepare to hit the road in one of these fun-boosting, memory-making machines, keep these quick tips in mind. You'll be a veteran before you know it.
1. Take your time at delivery
In case you aren't familiar with the term, delivery is when you pick up your purchased RV from the dealer. This is a huge moment, not only because you are taking ownership of your RV, but also because your dealer will walk you through your unit and give you a detailed overview of its systems and features. Your dealer is perhaps your most valuable and knowledgeable resource. Ask lots of questions, take notes, or even record more intricate details with your phone if you like.
2. Take it slow
Practice maneuvering—turning, backing up, etc.—before you head out, and take it slow once you do.
3. Motorhome owners, know where the gas tank is
Sounds obvious, but you'd be surprised…
4. Plan
Meals. Road time. Arrivals and departures. Your destination. The more you can prepare or research things like these, the better. Here's another blog post with more detail—and yet another specifically for longer hauls.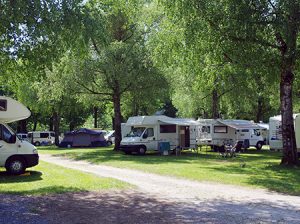 4b. Make reservations
Remember that huge number of new campers? If you're planning to stay at a campground and not in the wild (advisable for newbies), know that the grounds are packed in each region's peak season. Don't risk setting out without a reservation.
5. Secure your stuff
You've heard flight attendants say it a hundred times, "Items may shift during travel." The same is true of RV travel. Keep this firmly in mind as you prepare to take to the road.
6. Don't spend too much time looking for the perfect campsite
Almost every campsite at every campground has good things about it and bad. Weaving through the campground over and over to find one that's just right isn't usually worth it. It's the memories that you'll make there that will stick with you, not which site you choose.
7. Level your unit
This includes when you pack and once you arrive at camp. Keep weight distribution in mind as you hit the road, and level up your unit at camp before getting down to fun. It's not only safer on the road but ensures proper function of equipment like slideouts and refrigerators.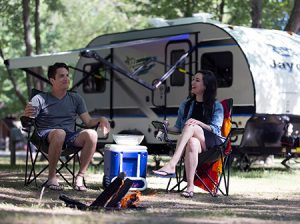 8. Be a good neighbor
Yes, RVing is one of the best ways to bring families together, but you'll also quickly find that it's a kind, friendly and generous community of people. Don't miss a chance to meet some great friends. And remember, practicing good "campground etiquette" is great way to start off on the right foot.
9. Walk around before leaving camp
Pulling out of the campground with baggage doors open, stairs down, cords loose, or anything unsecured, is not only embarrassing, but can also cause serious damage.
10. Plan your maintenance
You'll want to preserve your investment. Certain areas of every RV require a little TLC, whether it's before each trip or every few months. Prepare now, avoid issues later. The Jayco Journal has maintenance advice covered too.
Bonus tip: review your warranty before you buy
Sure, warranties are useful in the case of unforeseen circumstances, but they reveal a lot about an RV's overall quality as well. Learn more about why we're able to offer a warranty that's twice as long as most competitors here.
Anxiety has no place on the road or at the campground. Taking simple steps like these as you prepare to set out are sure to help make fun, relaxation and quality time the focus of your RV adventures.