In 2011, we announced that we have launched a long-term Sustainability Initiative designed to insure minimal negative impact by our products and processes on human health and the environment. We've named our commitment to protecting the environment EcoAdvantage.

Jayco has always made an effort to do its part in being conscience of the waste we produce and how we handle that waste. In fact, we have had our own internal recycling program since the early 1980's and in 1991 we received a Governor's Award of Excellence for our recycling efforts.
With our new company-wide EcoAdvantage program, we're focused on creating better ways to build better RVs and using fewer natural resources in the process. To achieve this, we've set seven ambitious goals and we expect powerful results.
Landfill Free by 2015 – we've relocated recycling bins, educated our employees and worked with suppliers to reduce packaging.
Reduce Freshwater Use – we plan to capture water runoff to be able to provide the water needs for our facilities. Our first step is reclaiming rain water for use in three of our major production facilities by this coming spring.
Use More Sustainable Materials – we will re-use materials, improve our packaging and work with our suppliers to use more sustainable components.
Consume Less Energy – We're committed to consuming 40% less energy by 2014 through facility upgrades and production process improvements.
Promote Green Efforts – through our EcoAdvantage program, we hope to educate and get RV owners, suppliers and even competitors to begin to recognize the importance these practices can have on the environment.
Streamline Processes – We're focused on standardizing more processes to reduce energy use, increase efficiency and limit production waste.
Reduce Product Weight - We've committed ourselves to building lightweight products for better gas economy, so that we can help our owners tread even more lightly on the plant during their adventures.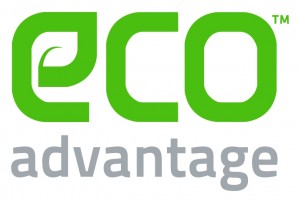 Now that we explained EcoAdvantage, our company-wide sustainability program, we thought we'd give you an update on how we're doing. So here, straight from the EcoAdvantage program manager, Jeff, are the latest statistics.
Throughout this year, we were able to reduce our waste per unit from 161 lbs. to 140 lbs. As a direct result of this reduction in waste, Jayco has been able to save nearly $70,000 in hauling and landfill fees. This reduction in waste also saved enough landfill space to accommodate a year's worth of trash for 31,330 Americans.
We're on our way to being landfill free by 2015 as we're about 50% toward that goal. Three of our production facilities combined only produced 1 compactor load of trash to the landfill. Previously, they would send around five loads to the landfill every month.
We have also seen a reduction of electrical energy use by over 42%. This huge drop in electricity use is a direct result of our new lighting project that has taken place in our production facilities by replacing almost all of our old metal halide bulbs with new T8 fluorescent bulbs. T8 bulbs use less energy, are environmentally friendly and still provide brighter light. An interesting way to look at it is that we've conserved enough electricity to power 980 homes for a year!
A few other fun statistics are that we have saved 41,217 trees and we have recycled enough water to fill 664 swimming pools. We've also conserved enough gas to make 21.4 trips around the earth in a car!
These statistics are just the beginning. We will continue this progress until all of our seven goals are met. Jayco is fully committed to protecting the environment so that generations to come can enjoy the Great Outdoors.
It's time for an update on Jayco's EcoAdvantage program. This program is our commitment to sustainability. We want to ensure your family — and future families — have a place to camp.
We launched the EcoAdvantage program in 2011 with ambitious goals. We want to become landfill free, consume less energy, reduce product weight, integrate more sustainable materials and reduce fresh water usage.
It's been a year since we've reported on our progress, and we thought Earth Month was a perfect time to clue you in on our strides in the past year.
The following video sums up our goals and accomplishments. Take a quick watch:
http://www.youtube.com/watch?v=WYVeVldJdAA&feature=share&list=UUPgzcZxRY0Q0_T4AJQ9mskw
To summarize, in 2012:
Jayco recycled more than 6,500 tons of wood, 2,100 tons of scrap metal, and 1,100 tons of cardboard and paper.
We conserved:

Enough electricity to power 1,500 homes for an entire year.
Enough gas for Americans to drive more than 750,000 miles.
Enough water to meet the daily fresh water needs of more than 104,000 Americans.
And enough landfill airspace to meet the annual disposal needs of more than 40,000 people.

And finally, our efforts saved more than 50,000 mature trees.
We plan to aggressively move forward with our EcoAdvantage program, and we hope you come along for the ride!
For more information about the Jayco EcoAdvantage program, including green RVing tips and progress reports, visit https://www.jayco.com/ecoadvantage/.
What are some ways you reduce your footprint when camping?Leave us a comment.
To learn more about Jayco's EcoAdvantage program, click here.