There is a lot of excitement around new trends in RV design. One in particular has campers really excited: RVs with white interiors or at least lighter décor with white as a foundation. At Jayco, we're proud to have been on the cutting edge of this movement; we redefined how people think about RV décor by taking a true residential interior design approach.
It started a few years ago when the now-wildly-popular Modern Farmhouse, our take on RVs with white interiors, was introduced. As our senior designer, Stacy Stewart, explained in a Jayco Journal post at the time, "We love seeing how people make their RV interiors unique, how they add their own personal style.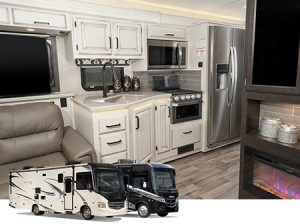 In response, we wanted to do something similar with Modern Farmhouse, by blending the RV industry's traditional style seamlessly with today's interior home design trends."
Since the design's introduction, Jayco owners new and old have spoken loudly, asking for more and more of the "Jayco RVs with white interiors." As Stacy accurately predicted, "It's comfy, cozy, and has a classic feel. People are just drawn to it."
We've expanded our offering of Modern Farmhouse across much of our towable and motorized lineups.
Class A Motorhomes
Alante – This compact Class A motorhome is the shortest in the Jayco lineup.
Precept – A mid-sized Class A motorhome offers unique floorplans to choose from.
Class C Motorhomes
Greyhawk – A versatile Class C for all kinds of travel groups.
Redhawk – The Redhawk has long been one of the best values in its class.
Travel Trailers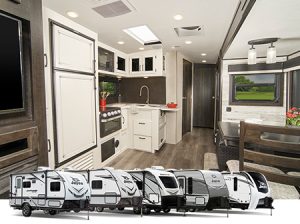 Jay Feather Micro - Recently named one of RVBusiness top ten RVs of 2021, the Micro is an easy-to-tow, ultra-light trailer
Jay Feather - This family-friendly trailer is sure to have a floorplan that's ideal for keeping trips fun and comfortable.
White Hawk - The White Hawk combines lightweight towing, luxurious features, and family friendly floorplans.
Jay Flight – Nevermind just travel trailers, the Jay Flight has been the best-selling RV in North America for more than 15 years. The park model, Jay Flight Bungalow has white cabinetry options.
Eagle travel trailers and half-ton travel trailers – One of the longest-running RV brands on the market, Eagle has successfully blended luxury, towability, and fun for more than 25 years.
Fifth Wheels
Pinnacle - Appropriately named, this is our top-of-the-line luxury fifth wheel.
North Point - No skimping here, the North Point is a built for comfort no matter how long you plan to be on the road.
Eagle fifth wheels and half-ton fifth wheels - The other half of the proud Eagle brand, Eagle was also the first Jayco to feature the Modern Farmhouse interior design.
Toy Hauler
Seismic - The top-of-the-line, feature-packed Seismic has all the features thrill-seekers crave when they're away from home.
We've approached interiors differently for years. For a glimpse at the process that led to Modern Farmhouse and some other popular designs, like Cashmere Cottage, American Tradition, and Vintage Wash Gray, click here. You'll hear more about our designer, Stacy, and her approach to the designs.