It's one of the first questions an RV shopper confronts: do I want a trailer or a motorhome? For some, it's an easy answer—others, not so much. While very different vehicles, both offer the chance to experience all the wonderful benefits of the RV lifestyle, just in slightly different ways. If you're one of those mulling the choice of which type of RV is best for you, here are some of the reasons a motorhome may be the best first RV for you.
You love to drive.
Of course, you'll be on the open road no matter what RV you choose, but this point holds a special place in our hearts here at Jayco. We take the way our motorhomes perform on the road very seriously—case and point, our exclusive JRide® ride and handling packages, available on most models. But enough about us. The RV captain's chair has a special feel. You're high off the road and panoramic, wraparound windshields offer a vantage that's unique among non-commercial vehicles. Take a test drive when you visit the dealership, and you'll see what we mean.
You don't have a proper tow vehicle.
While many of today's lighter trailers are towable by commonly-owned SUVs—even minivans and crossovers in some cases—most travel trailer models, toy haulers and fifth wheels require a truck to be towed. A motorhome is a nice option if you don't already have a tow vehicle and don't want to buy one. Also, don't forget, most motorhomes are capable of towing vehicles themselves, compact cars included.
You like to get up and go quickly.
Any RV provides a unique kind of freedom: the ability to change plans on a whim, spend extended amounts of time on the road, have more control over your budget, the list goes on and on. However, when it comes to setting up and packing up camp, motorhomes have a slight edge. There are simply fewer moving parts with a motorhome, as there's no tow connection and leveling/stabilization systems are typically easily managed with a switch from inside the coach.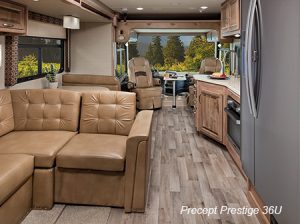 A lot depends on your comfort level on the road.
If you've never towed anything before or are uneasy with the idea of having another vehicle behind you, opting for a motorhome will alleviate some of that concern. While some motorhomes do extend to 45 feet in length, there are many options at 30 feet and under. Sure, they'll take some getting used to, but the experience is much closer to the day-to-day vehicles folks are most comfortable with.
You like the idea of having access to the living area while driving.
Safety always has to come first when you're on the road, so be very careful if you do plan to take advantage of this, but many motorhome owners love being able to utilize the living area while they are on the road. With seatbelts in every seating position, you can safely enjoy the journey from the comfort of your couch. So sit back, flip on your favorite show, and enjoy the ride!
Curious about what other RV types are available for the first-time buyer? Read the cases for travel trailers and toy haulers.
Additional Resources