While many turn to RVing as a way to escape the technology that surrounds us every day, your smartphone definitely has some very practical uses on the road. There are thousands of apps that can make any RV trip a little more convenient, more safe and more enjoyable. Below are some of the apps we think can add the most to your RV adventure. First, we'll look at some that can help you plan, then some that make time at camp more fun, on-the-road support and we end with a couple that will help you preserve your memories.
RV Planning Apps
Jayco RV owners have all the information they need about their RV—and more—in the palm of their hand. The Jayco Wingmate app features quick-start videos, maintenance checklists, how-to tutorials, trip and packing checklists, campsite considerations, Owner's Manuals, an extensive glossary of RV terms and more.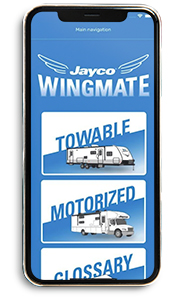 In addition to the improvements coming to America's parks thanks to the Great American Outdoors Act, National Parks apps make experiencing our most beautiful national parks easier. There are specific apps for different parks so you can learn about everything that's there to be discovered.
More of a service than an app, Localeur provides insights from real locals in more than 180 cities around the world. Recommendations are sourced from local writers, designers, DJs, entrepreneurs, visual artists, foodies and more—not tourists or folks just passing through. If you find yourself near a city you've never been before, check Localeur to find unique experience recommendations for eating and drinking, road trips and personalized experiences that fit in your agenda.
If you want to access all your nearby gas options and find the lowest price, download the GasBuddy app. This app is particularly useful if you are traveling in a diesel unit. Plus, some of the gas stations have crowd-sourced photographs which will help determine whether you can easily navigate the space in your rig.
The Roadtrippers app is the perfect planning companion for RV travelers. You can map out your route in advance and the app will help you discover interesting places nearby, including historic sites, scenic overlooks, and more. If you are all about enjoying the journey as much as the destination, this app is a must.
You'll drive more comfortably when you can create custom routes based on the factors that matter most to RVers. Interactive charts show route elevation, curviness, weather (temperature, humidity, precipitation, wind speed/direction, severe weather alerts), and sunrise/sunset times. Search along a route—the whole route, every x miles/hours, or the next x miles/hours from a place—find gas, hotels, campgrounds or places to eat.
There are a series of apps from Red Cross that can be lifesavers. Literally. You'll find all of the first aid information you could need in a pinch. You can also find an app for help with first aid advice for pets and others that keep you alerted to weather emergencies like hurricanes and tornados.
The RV community is really special. You'll find campsite neighbors are ready to lend a hand or a few marshmallows. RVillage is a easy-to-use app that makes it easy to stay in touch with your RVing buddies, find other like-minded travelers and get advice from RVers who have visited your destination.
The tagline for Sanidumps is "when RVs have to go" and that sums it up perfectly. If you enjoy dry camping in state and national parks or boondocking on BLM lands, eventually you will have to empty those tanks. This app will help you locate the nearest spot to get the job done.
Camping Activity Apps
Ever heard of the app Shazam? When you open it on your phone it listens to a song and can name the title and artist in seconds. This is the bird call version of that. Open the app when you hear a bird calling and this app will identify the bird on the spot. Amateur and advanced birders will have a blast at camp with this easy-to-use app.
If you have animal lovers along for the adventure, this app can be really fun to use on a hike. Find out exactly what type of animal made that track you stumbled on! A database with 7 searchable track categories. You'll see full-color digital images and illustrations of both fore and hind feet, with a complete description of track measurements, gait patterns used trail widths and animal life cycles.
Everyone knows you can Google just about any fact, figure or historical tidbit. While not exactly an app, at lens.google.com, you can search using an image instead of just text. At camp, take a picture of a plant or tree, perform a Google images search with it and you'll be served up with everything you ever wanted to know about the plant. What a great way to explore and learn.
One of the coolest perks of RV camping is escaping the lights of your city or neighborhood and getting a chance to see the stars. Google's Sky Map is Google Earth for the night sky. Take advantage of being away from it all and learn about stars and planets.
Photo Book Apps
The Chatbooks app is all about preserving the amazing memories you create when traveling in your RV. There is simply no easier and more affordable way to make photo memory books after a trip. Getting those pictures off our devices and into a photo album has brought back the joy of sharing our trips with family and friends…in real life. For some other fun ways to preserve travel memories, check out some of our favorite ideas here.
Hands down, the best part of RV camping trips are the memories. Day One Journal is an easy-to-use log that integrates maps, photos, notes, and videos and records your RV memories. The app geotags your images and documents your travels in real-time and integrates social platforms like Facebook, Twitter and YouTube so you can easily share your memories with family and friends.
Make your trips a little easier, safer and more fun with these handy tools right in the palm of your hand. Some of these apps are only available for select devices and while many are free, some may have a small download fee.