Remember when you were practicing to get your driver's license? It was exciting and nerve wracking all at once. Dial up the excitement and dial down the nerves and that's kind of what it's like to learn how to drive or tow a new RV—even if you've done it before.
Understandably, driving a larger vehicle or towing something unfamiliar can cause some hesitancy, but we're here to tell you about some of the newer RV features that make driving safer, flatten the learning curve and generally make you more comfortable behind the wheel. Either way, the freedom and flexibility of the RV lifestyle is well worth it! Let's dig in.
In-dash technology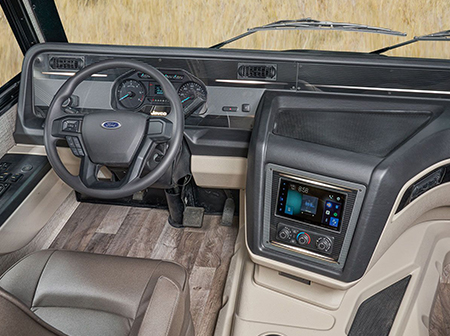 More and more motorized and towable RVs are coming prepped for or equipped with backup cameras that display in the dash. They're indispensable tools for safely getting in and out of campsites and parking spots.
Monitoring systems aren't the only modern conveniences making their way to into motorhome cabs. Infotainment touchscreen displays, USB ports, power adjustable, well, everything basically, the list goes on and on. They're all available on today's motorhomes and make navigating and drive-time not only easier but also more fun.
Seatbelts in all seating positions
Part of the fun of traveling in a motorhome is hitting the road with a group of eager campers. To help ensure you get to and from your destination safely and comfortably, we add seatbelts to all seating positions in the living area. You won't find this from any other RV maker—Jayco exclusive.
Premium tires
Foreign-made tires have a bad reputation in the RV world, and, in most cases, for good reason. At Jayco, we made the decision years ago to use only premium tires. Nearly every Jayco towable and motorized RV is equipped with American-made tires from brands like Goodyear® and Michelin®. Not only do they provide a more pure feel for the road, but they are more resistant to flats.
Eliminating errors where it counts most
Frames are the foundation of an RV. As you drive, they absorb some of the shock from the road. The more solid the foundation, the more sturdy the rig feels, and more confident you feel, as you roll down the road. We turn to trusted partners and their advanced robotics to weld frames with repeatable precision and strength that can't be matched. It's the only part of our craftsmanship process that's automated or involves robots.
Our motorized chassis are nothing to sneeze at either, boasting the latest innovations from global leaders like Ford®, Freightliner® and Mercedes®.
Additional exterior safety lighting

You've probably driven next to or behind an RV a time or two. It can be tricky to know what they're going to do next or how much space to give them. We've found one of the best ways to improve this situation is to add indicator lighting in key areas of trailers.
Our solution is called JaySMART™. It adds several tow vehicle-controlled exterior lights to indicate turning, braking, reverse travel and hazard situations. It syncs up seamlessly with your tow vehicle's signal, no adjustments or special connections are required. Here are three ways JaySMART more clearly indicates a driver's intention:

When brake lights are applied, rear SMART lights flash three times and then stay illuminated.
Turn signals activate flashing SMART lights on the rear, side and front of the trailer.
When hazards are on, all SMART lights flash in unison.
Motorhomes are following the trend too. For example, each of our motorhomes have a pulsing third brake light near the top and center of their rear end.
A confident driving experience

Having a clean feel for the road provides a strong sense of security on grades, bumps or turns from the get-go. Enhanced chassis and suspension gear, made to support the weight distribution of a motorhome, has made for a much less demanding driving experience than in RVs built just a few years ago.
Systems like our exclusive JRide® take it to another level, featuring components like computer-balanced driveshafts, sway and stabilizers bars, and air suspension and braking systems.
A confident towing experience

There's certainly a "feel" to towing an RV too, the way the weight of trailer reacts. Like JRide, advanced hitching equipment is helping to make the fifth wheel towing experience so much more comfortable.
Our 4- and 5-Star Handling Packages include features like higher speed and weight rated towing tires, a rubberized suspension system and pin box with forward/backward travel. These all work together to absorb and stabilize the connection so you don't feel it at the wheel.
Explore our diverse lineup of RVs or find your nearest Jayco dealer to learn how you can get started enjoying the RV lifestyle—safely and comfortably.