Let's get right into it. Here are some of the questions we're hearing from RV shoppers these days, along with a few age-old ones too.
When can I see 2019 models on dealer lots?
In some cases they are already there. Either way, we can tell you our plants are cranking at full capacity in an effort to stock all of our dealers across the U.S. and Canada by late spring, early summer. Different dealers receive inventory from the plants on different schedules.
In the meantime, we're updating our website on an ongoing basis with the newest models' photos, specs, floorplans and features. Events are a good opportunity to see the latest and greatest models as well—come see us!
Are mobile devices compatible with today's RVs?
Yes. Several of our models are equipped with Bluetooth® technology, multiple USB charging ports and HDMI connectivity. Other examples include our new Embark Class A motorhome with its WiFi extender antenna option and our Seismic toy hauler with its app-controlled undercarriage LED light package.
In case you're interested, here's an interesting study from Spring 2018 about how tech is affecting camping.
Also related: This Jayco Journal post, RV Technology That's Making Camping Easier, discusses other technology being built into RVs.
What's a campground like these days?
Even if they're remote, campgrounds are modernizing. Many are powered, at least in part, by renewables, offer online booking, reliable WiFi, cashless payments at the store and kiosk check-in. The boom in RV popularity means you'll have a wide variety of neighbors, different ages, heritages, and experience. That's really exciting!

What's the deal with solar-powered RVs?
Well, it isn't exactly right to say "solar-powered RVs." Things may head in that direction at some point, but right now you're more likely to use solar power as supplemental energy while at camp. Most of our towable RVs are prepped with plugins on the roof, near the ground, or, in the case of our Eagle line, both (an industry-first). You can buy solar panel kits separately and plug them right in to the unit.
What are those floorplan names all about?
In most cases, Jayco's included, the numbers refer to the approximate length of the RV and the letters stand for a distinctive floorplan feature. For example, the Jay Flight 26BH is a roughly 26-foot model with a bunk house. The difference between the 17FD and 17RB Hummingbird models? The FD has a front dinette and the RB has a bathroom in the rear. Different manufacturers may use different abbreviations and formulas, but the concept is generally the same.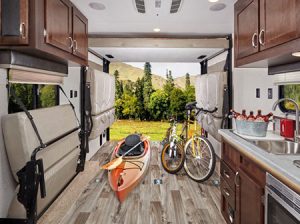 What exactly is a toy hauler?
It's pretty much exactly what it sounds like. A toy hauler is a trailer with a garage built in to the rear for hauling toys like ATVs, canoes, bikes, you name it. Although, we're seeing a lot of other creative uses lately too.
The value-packed Talon was named one of RV Business' top debuts of 2018. The Octane lineup included one of RV News' "Best of Show" winners from the 2017 industry show, and the Octane Super Lite, with floorplans that weigh in under 4,500 lbs., was named "Best of Show. The Seismic simply has all the bells and whistles.
What about a park model?
A park model, or destination trailer, is designed for fewer hauls and more long-term stays. In the biz, we call this type of travel "seasonal camping." These types of RVs are built with more residential amenities. Our version, the Jay Flight Bungalow, includes features like a 60-inch, residential sliding patio door, a detachable hitch, central vacuum system and extra-large windows.
Our Facebook community—more than 34,000 strong—is a nice resource for getting your questions answered, either by us or other RVers. Your questions and feedback play a big role in the development of our RVs each year. If Facebook isn't your thing, we'd still love to hear from you. Here are some other ways you can get in touch with us or find your closest dealer.