To the everyday RV shopper, a piece of wood here instead of aluminum, or using a screw instead of a staple, may not seem like a big deal. Oh, but it is. These seemingly small decisions made in engineering meetings and executed in plants at a manufacturer's campus somewhere are crucial for RVers everywhere.
The individual choices made in the early stages of an RV's development ultimately determine its overall quality, durability and livability. They also affect the terms of a unit's warranty. If you're shopping for an RV, it's smart to consider these materials in addition to things like floorplan, size, RV type, etc. Here are just a few examples of specific material comparisons and their effect.*
Wood vs. Aluminum
Instead of a thin strip of aluminum, we use 2-inch by 2-inch wood studs in critical load-bearing roof areas. It's one of the reasons our Magnum Truss® Roof System withstands a staggering 4,500 pounds, 50 percent more than the competition. Wood promotes safer wiring too. The smoother edges reduce the chances of wire damage and electrical shorts.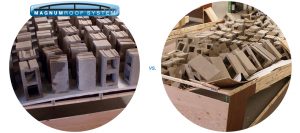 Astro-Foil® vs. Aluminum Radiant Foil
Astro-Foil all the way. Aluminum radiant foil has two-sided reflective material, but it's missing a critical factor: a core insulation. It resembles the wrapping you get your hot dog in at a ball game. The Astro-Foil has a bubble wrap-type membrane (but much more durable) encased between the reflective material for additional R-value.
Plywood vs. Oriented Strand Board (OSB)
When there's a choice between these two, we always go for plywood, especially in heavy-wear areas like dinette and bunk platforms, floors and roofs. OSB is more widely used in home construction, but RVs and homes endure different wear and tear. Moisture is bad for almost any construction and RVs are exposed in many more and different ways than a brick and mortar home. The primary reason to opt for plywood is its moisture resistance. Edge swelling and moisture retainment is much more significant in OSB, which can have a negative effect on a number of an RV's key construction areas. Plywood is also lighter and still about 10 percent stiffer, making it superior, especially in load-bearing areas.
Screws vs. Staples
We prefer screws. In several areas of our RVs, roofs, cabinetry and floors for example, we use screws instead of staples. They are more solid and superior in strength and durability.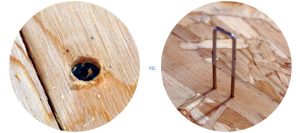 Galvanized Steel vs. Plastic
We choose galvanized steel. This is a decision that comes into play when we build wheel wells. Experiencing a tire blowout or the scenario where road debris damages a unit or disrupts travel is unusual. You should be protected nonetheless. Galvanized steel provides a stronger barrier between the unit floor and the road, limiting the chances of damage to the coach itself.
Real Wood vs. Medium-Density Fiberboard
We use real wood for many of our slideout fascia and cabinetry. This is about craftsmanship and resale value. Real wood, instead of an "engineered wood product", adds beauty and more of a home-on-the-road feel at camp.
Paint-Infused Fiberglass vs. Painted and Clear-Coated Fiberglass
It has to be painted and clear-coated fiberglass. Most fifth wheel front caps in the industry are built with paint-infused fiberglass, but sunlight exposure usually leads to fading and, in some cases, the development of a chalky film. Many of our fifth wheel caps are fully painted and clear coated.
The Frame
We would be remiss if we didn't touch on the RV's foundation. Since we use custom frames, there are several important material choices to be made.
You can read more about each of our unique frame designs on our Strong Foundations page.
Again, this is just a snapshot of dozens of decisions that go into a single unit's design. For us, the deciding factor is quality that lasts. Next time you head to the dealer's lot, be sure to keep factors like these in mind when choosing between brands.
*The materials discussed may vary by product and supply availability.