Being a camper or outdoor fanatic is all but synonymous with being environmentally conscious—hard to be passionate about one and not the other. RVers are no different. They take comfort in research that shows that RV vacations are better for the environment than traditional travel methods. Here are a few additional ways RVers can travel clean and help preserve the beautiful terrain that provides boundless opportunities for memories and fun.
Stay at eco-friendly campsites
Seek out green campsites while traveling. Campgrounds across the U.S. are adopting eco-friendly practices like using solar power to heat pools and geothermal systems to heat buildings, upgrading sanitation systems from chlorine to saline and organizing better recycling programs.
Consider key features in your next RV
Features like lighting, kitchen appliances, heating and cooling systems, aerodynamic front cap design, generators and running gear—just to name a few—all factor into the kind of environmental impact your travels will have. At Jayco, our front caps, LED lighting, advanced insulation and duct systems are among the many features designed to be environmentally friendly.
Invest in thermal blankets
Save money and reduce your environmental impact by stocking your camper with thermal blankets and warm sweaters. Not only will turning down your thermostat help conserve propane and reduce your environmental footprint—you'll also save some cash. It's a win/win.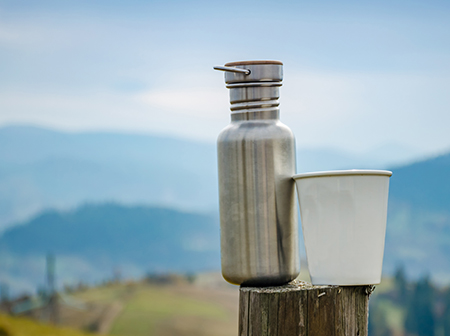 Choose reusable items
When you're on the road, it can be all-too-easy to go through stacks of paper plates, paper towels and disposable cups. It's not easy on the environment, however. Melamine dishes are a great alternative. These sturdy, reusable dishes are organic-based, lightweight, portable, fire retardant and affordable. Investing in rechargeable batteries also pays green dividends, as the chemicals in disposable batteries can have a harmful impact on the environment.
Reduce waste and recycle
Keep a recycling bin in your camper and recycle as many disposableitems as possible. Reduce food waste by disposing of food scraps in a compost pile. If you can't find a nearby compost pile while traveling, you can easily make your own bin for shorter trips. Simply cut some decent-sized holes in the lid of a bucket, cut a carbon filter to fit, glue it to the inside of the lid and voila! You'll have usable compost before you know it.
Use natural cleaners
Whether you're cleaning your kitchen or washing your hands, choosing natural, biodegradable cleaners won't just help reduce your impact on the environment—they may also benefit your health.
Switch to solar-powered equipment
Many Jayco RVs are available prepped for solar power, making it easy to set up or install a solar panel and simply plug it in for extra juice. Solar-powered gear is also an easy option. Items like solar-powered generators, lanterns and even bug zappers help reduce your environmental impact and save you money on batteries.
Look into how your next RV is built
Here at Jayco, we're committed to protecting the environment, from the moment a raw frame rolls into the plant all the way to the campground. Through smart sustainability efforts, we're creating better ways to build better RVs using fewer or renewable natural resources.
Our recycling program has been active since the early1980s and we were the first major RV manufacturer to be 100 percent green certified by TRA Certification Inc., an internationally accredited certification organization. In one year alone, our conservation programs helped save more than 28,000 trees, 14,000 cubic yards of landfill space and enough energy to power more than 600 family homes for a year.
Learn more about Jayco's EcoAdvantage program and our ongoing efforts to help make sure generations to come have beautiful places to enjoy.