Many will remember the conversion van craze a few decades ago. Having a comfortable bed and some extra space in an everyday-type vehicle was revolutionary. How far we've come!
Class B RVs, or camper vans, are like conversion vans on steroids and have been all the rage lately. It's understandable, they afford the basic features of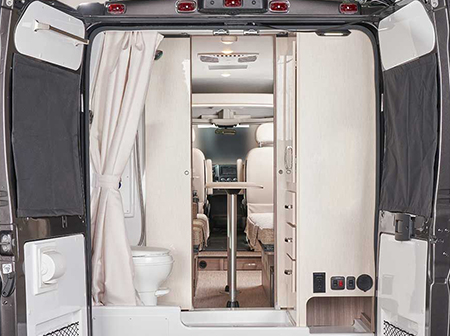 home—a full bathroom, sleeping space, galley and entertainment system—with get-up-and-go flexibility all in one. Before we dig into what's specifically made them so popular, let's take a look at the nuts and bolts of the smallest motorhomes on the road.
Length: 16-21 ft.
Sleeps: ideal for one or two, but can sleep up to four
Build: crafted on automotive vans or panel trucks
Side to side: approx. seven feet
Starting price: approx. $100,000
Because of their solid build, strong chassis, flexibility and great gas mileage relative to other RVs, a huge perk is how well they maintain their resale value. But, maybe the most attractive thing about these nimble RVs is just that, of all RV types, the on-the-road experience is by far most similar to that of an everyday driver. Just about everyone can find comfort behind the wheel quickly. While regulations may be different from state to state, there's typically no special training or license needed.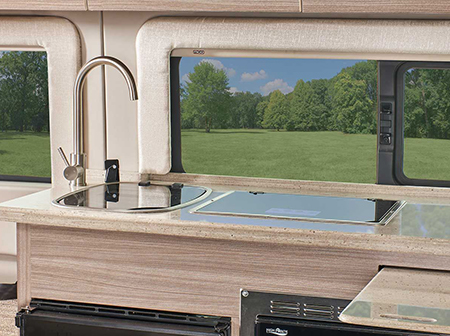 Their more common size affords some other big perks too. Class B RVs can fit in the smallest campsites (or grocery store parking space), can navigate narrow roads other RVs can't and you won't have to find special storage. These RVs fit in many garages or can stay in the driveway without getting in the way too much—a nice fit for those who live in more urban locales.
Class B motorhomes make a great home base for an outdoor excursion; you won't see Class B owners spending a lot of time inside their unit. Getting some nature time, day trips, and tracking down new experiences or places to visit are favorites for "van lifers", because setting up and tearing down is so quick and easy.
For the first time at Jayco, we're putting our spin on the Class B RV in this model year. Learn more about our take on van life, check out what the brand-new 2021 has to offer.